As I was getting ready to become a first-time mom, I knew that I would be concerned with my baby's sleep. What I didn't realize is that I would become absolutely obsessed with knowing how much sleep our little bundle of joy was getting, the quality of that sleep, and how the tweaks we were making to his routine affected both quantity and quality.
As any new parent knows, the sleep of your baby has a huge impact on how rested you. I decided there was nothing more worth investing time and resources into than products that could help our family get the rest we so desperately need. That's how I ended up with the Nanit Pro Smart Baby Monitor.
What Is a Smart Baby Monitor?
Like it has with many other facets of our life, smart technology has made its way into the nursery. "Smart" (which is sometimes an acronym for "self-monitoring analysis and reporting technology") devices connect to various networks and pair with other devices to "talk back" to us and even help guide our behavior.
Think about the way your smartphone and smartwatch learn your typical usage patterns. And how a smart TV makes recommendations for you based on previous shows and movies you've watched.
Nanit Pro Smart Baby Monitor and App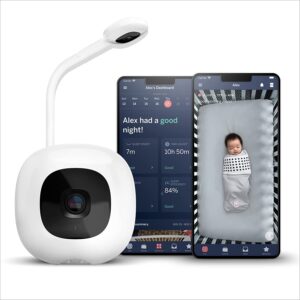 To buy: Nanit Pro Smart Baby Monitor & Wall Mount, $249.39 (originally $299.99); amazon.com.
A smart baby monitor takes that same idea and helps you track your baby's sleep behavior, breathing patterns, heart rate, and more, depending on which model you choose. The idea is that this data can give you some peace of mind.  Every parent knows the fear of sudden infant death syndrome. It can also be used to help you make tweaks and adjustments. It helps improve your baby's sleep and thus, their overall health and development.
Technical Score
| | |
| --- | --- |
| Mashable Score | 4.4 |
| Cool Factor | 5.0 |
| Learning Curve | 4.5 |
| Performance | 5.0 |
| Bang for the Buck | 3.0 |
The Nanit Pro Smart Baby Monitor
The Nanit Pro smart baby monitor offers an impressive array of functions as compared to the others on the market. First and foremost, the monitor offers a high-quality HD video monitor (1080 pixels, to be exact) that streams directly to your phone, so you have a clear view of your little one at all times.
It also features two-way audio communication, allowing you to talk back to your babe in moments of wakefulness. Beyond those basic (but important) functions, what makes the Nanit Pro really stand out is that it offers sleep tracking and guidance based on your baby's unique sleep patterns.
Over time, these insights can help you learn your little one's sleep habits and figure out how to improve them.
Nanit also recently came out with smart sheets that use the camera to measure your baby's height and growth. It is based on their body's placement in relation to the patterns on the fabric—with no additional wearable required.
The app will then automatically create a digital growth chart for your little one, and you can keep track of their progress. The same pattern technology is used for the Nanit breathing bands.
| Plans | Monthly price | Breathing Motion Monitoring | Max. caregivers | Sleep analysis history | Full video clip history | Max. auto-saved memories | Learn More |
| --- | --- | --- | --- | --- | --- | --- | --- |
| Nanit Insights Basic | $5.00/mo. | Yes | 2 | 2 days | None | 12 | |
| Row 2, Column 1 | $10.00/mo. | Yes | 10 | 30 days | 2 days | 200 | |
| Row 3, Column 1 | $30.00/mo. | Yes | 50 | Unlimited | 7 days | Unlimited | |
The Nanit app is a fantastic tool for parents looking to monitor their baby's sleep patterns and breathing movements. Although the app is free to use, many of its features, including Breathing Motion Monitoring, require a subscription to one of the three available Nanit Insights plans.
Thankfully, purchasing a Nanit Pro camera provides parents with one free year of Nanit Insights Basic. This offer is a great incentive for parents who want to try out the app's features before committing to a subscription.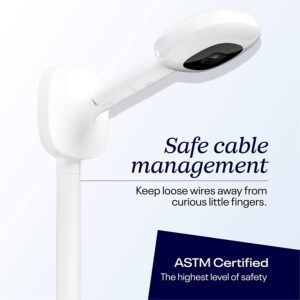 We highly recommend upgrading to the Nanit Insights Ultimate plan to gain a complete picture of your baby's data trends. With this plan, parents can enjoy breathing motion monitoring, sleep analysis history for an unlimited period, and unlimited video clip history. The Ultimate plan also allows up to 50 caregivers to access the data, making it ideal for larger families.
It is worth noting that parents can save money by paying for an entire year upfront. This provides them with a discount of approximately 17% off the monthly price if paid on the Nanit website. However, the annual price may differ if paid on the app.
In conclusion, Nanit Insights is an invaluable tool for parents looking to monitor their baby's sleep patterns and breathing movements. By choosing the right plan and taking advantage of the available discounts, parents can ensure their baby is safe and sound while enjoying peace of mind.
Can a Smart Baby Monitor Prevent SIDS?
Every Nanit Pro now comes with a breathing band that your baby can wear while sleeping. The Nanit camera picks up on the pattern on the band to detect your baby's breathing motion and send you alerts if need be.
While having a smart device that monitors your baby's breathing can provide a little comfort, easing the incessant impulse to check your baby. Experts warn that they should not be relied upon entirely to prevent SIDS.
According to the American Academy of Pediatrics (AAP), there is no data showing that home cardiorespiratory monitors reduce the risk of SIDS, and parents should still take all the necessary precautions to prevent SIDS, such as keeping the sleeping space free of everything other than a tight-fitting sheet and always putting a baby to sleep on his or her back.
The Nanit Pro vs. the Nanit Plus
The Nanit Pro is the newest offering from Nanit. The older model, the Nanit Plus, is similar, but the Pro offers a higher-definition camera. It also contains night light with a stronger and warmer glow. A separate status light to indicate Wi-Fi connectivity, and an easier-to-access reset button.
As previously mentioned, the Nanit Pro model also comes with the breathing band included. The Nanit Pro retails for $299 (on sale for $249 as of this writing), and the Nanit Plus used to be slightly less expensive, but since it's no longer readily available online, its price is even higher at around $358.
Both models come with a wall mount, though you can also buy a Nanit Pro with a floor stand for the camera ($379.99). For either version, you can also purchase a separate travel mount (called a "multi-stand") on Amazon for $49. The smart sheets sell for $35 and work with the Pro or Plus model.
Both models do require that you have an iPhone or Android device with Bluetooth for setup. While you need Wi-Fi to set up the monitor, it can be used if the Wi-Fi goes out as long as your phone and the monitor are on the same network. The Nanit camera system won't work if you move to a new location without internet access.
Can the Nanit Pro Baby Monitor Be Hacked?
The important thing to know is that, theoretically, any smart baby monitor (or camera system, in general) can be hacked. However, Nanit has taken a number of safety precautions to ensure the security of their monitoring systems, including physical and digital security monitors that are continuously audited.
The video data are encrypted, and the app requires two-factor authentication. It is also impossible to pull the video stream directly from the monitor itself, which adds an additional layer of safety.
My Nanit Pro Smart Baby Monitor Review
The video quality of the Nanit Pro really is fantastic, and I love having the ability to be able to stream the audio in the background of my phone while I'm doing other things. We also have the app set up on an iPad so that we cam watch our baby phone-free.
The setup process was simple, and we found the instructions intuitive for both the monitor itself and the app. We haven't yet mustered up the courage to leave the house without the baby yet, but I have a feeling when we do, the ability to monitor the baby remotely at home will be hugely beneficial.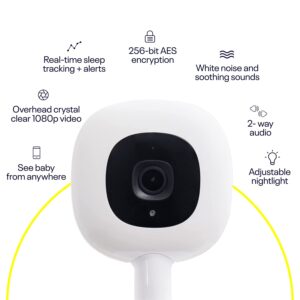 We can also share app permissions with the sitter so that they can keep an eye on him from a personal device in another room.
While other monitors we looked into rely on electric sensors to track the baby's sleep habits, we love that the Nanit Pro doesn't require any wearable electronics to track our baby's sleep, breathing, and growth.
But the biggest benefit of the Nanit Pro is definitely morning sleep analysis, which includes a time-lapsed video of baby's nighttime activity that you can rewatch. This helps you learn your baby's sleep patterns over time. It helps to make necessary improvements and note the effect of any changes you make on your little one's overall sleep quality and quantity.
Something we used less frequently but still did find some benefit from is the sleep guidance offered through the app from pediatric sleep experts. While the Nanit Pro has a lot of good, there were a few things I found myself wishing were slightly different.
The first is that it doesn't have a separate monitor. While it's great to stream to your phone, we sometimes found ourselves wishing that we could just leave it up and running while using our phones for other things.
Using a tablet was a good workaround for this, as was the ability to stream audio in the background of our phones, so it didn't end up being a huge inconvenience, but it's something to note if you're the kind of person who doesn't like to be tied to your phone.
I also found myself getting a tad obsessive about the app's sleep insights and data. At a certain point, I just had my partner look at the morning sleep analysis to tell me if there was anything I should be worried about. Otherwise, I found myself spending an inordinate amount of time analyzing every detail. This might be a problem only for type-A, data-obsessed individuals like myself.
The wall mount that the basic package comes with is not very travel-friendly, but as mentioned earlier, Nanit does sell a floor stand and a multi-stand, which make it easy to take your Nanit with you on the go.
The downside there is that it can get a little pricey once you start adding all the accessories. For what it's worth, we love the floor mount for home use, especially since we started out using the monitor in our bedroom and then moved it to the nursery, and we didn't want to install the wall mount twice.
Is the Nanit Pro Worth It?
My overall verdict is that, while pricier than many of the other baby monitors out there, the Nanit Pro Smart Baby Monitor is absolutely worth it for parents who want to gain a deeper understanding of their baby's sleep patterns.
Also for those who wants to have the opportunity to monitor breathing and growth without any additional electronic sensors on their little one.
Conclusion
As a new parent, your baby's sleep is essential for their development and your own well-being. The Nanit Pro Monitor is an investment that can give you peace of mind and help you improve your baby's sleep patterns. With its innovative features, high-definition camera, and sleep tracking capabilities, the Nanit Pro is a must-have for sleep-deprived new parents.