The Miku Pro Smart Baby Monitor offers advanced monitoring features, such as tracking breathing and room temperature, and provides real-time data through a secure app. It also boasts excellent sound and picture quality and sleep analytics.
Installation is quick and easy, and the wall-mounted design makes it a great investment for parents seeking a high-quality baby monitor.
As someone who isn't particularly tech-savvy, I didn't think I needed a baby monitor when building my registry. However, my perspective changed after testing out the Miku Pro Smart Baby Monitor. This device impressed me with its user-friendly features, from easy installation to simple app navigation.
The Miku team truly thought of everything when designing this video baby monitor. Even my tech-loving husband was impressed! If you're like me and didn't think a monitor was necessary, keep reading to see the benefits. And if you're already in the market for best baby monitor, you'll be blown away by all that the Miku Pro Smart Baby Monitor has to offer.
Expert Review About Miku Pro Smart Baby Monitor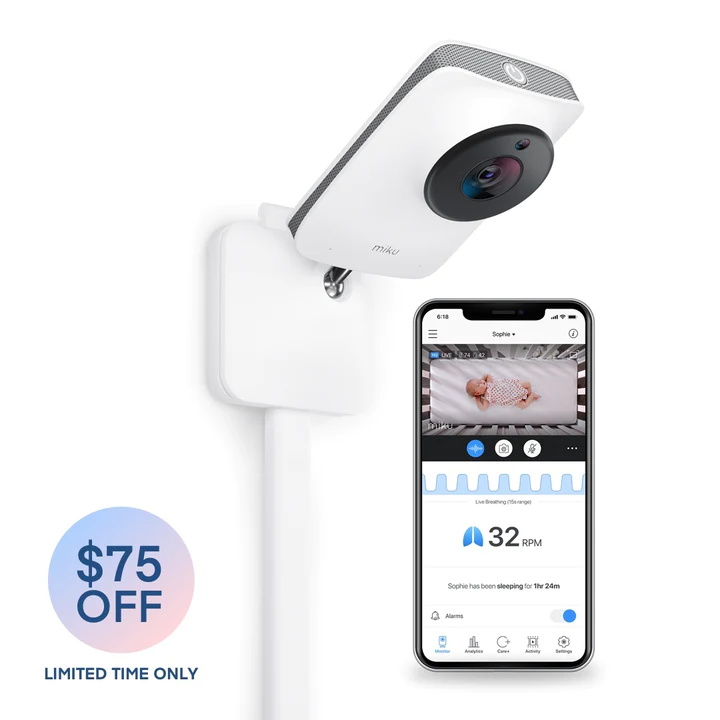 Miku Pro Smart Baby Monitor: Convenient Features to Love
One of the standout features of the Miku Pro Smart Baby Monitor is its easy installation process. The device comes with everything you need right in the box, including a monitor, power supply and cord, wall mount and levels, wall anchors and screws, cable guides, measuring tape, screwdriver, and a pencil.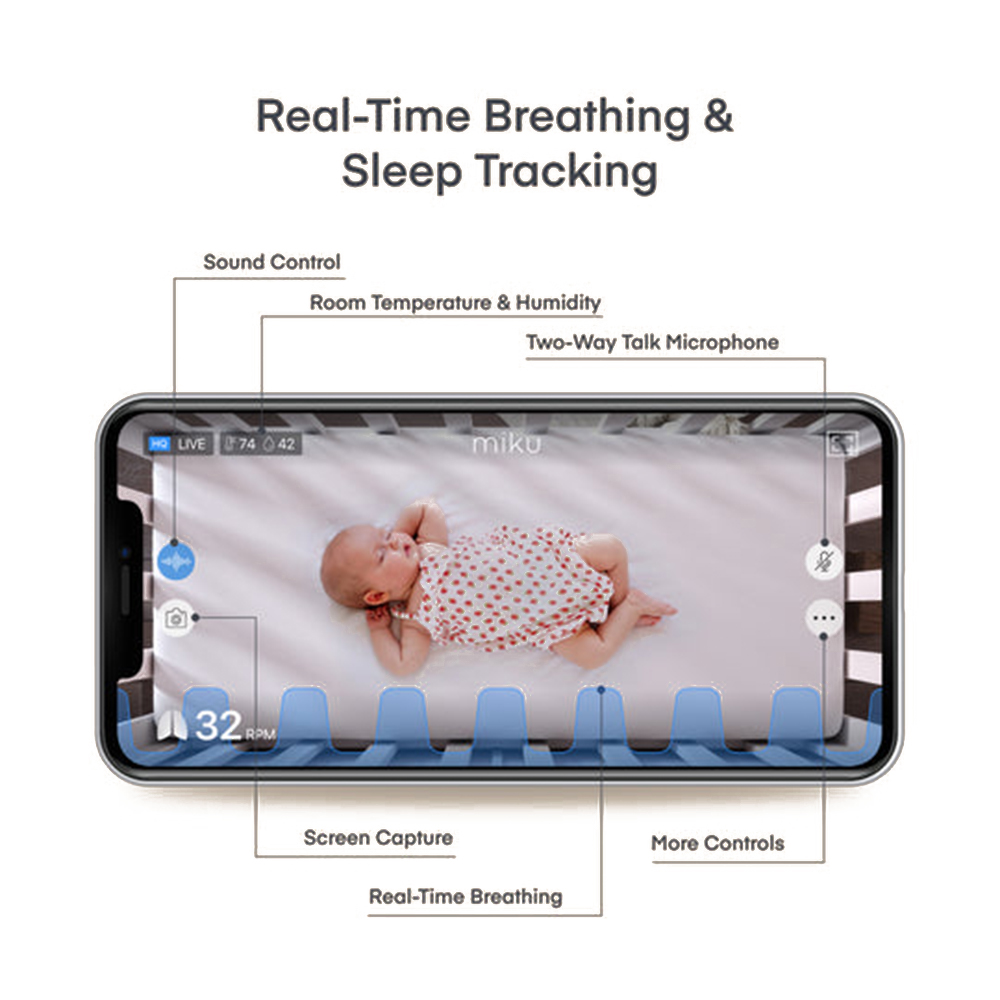 With clear written and video instructions available, setting up the monitor takes less than 30 minutes and is pretty much foolproof. The installation process involves marking the center of your baby's crib, marking the wall at 60 inches, and securing the wall mount with the included screwdriver and wall anchors.
Once everything is connected, simply plug it in and watch the light turn on. It's that easy!
How the Miku Pro Smart Baby Monitor Works:
The Miku Pro  monitor app offers a variety of features to help parents track their child's sleep environment and patterns.
[su_note note_color="#95cff9″ text_color="#2d302d" radius="8″]Its main monitor function tracks the baby's respiration per minute (RPM), detects movement, and allows for pinch-to-zoom video display.[/su_note]
It also displays the room temperature and humidity level, and includes a sound button, two-way microphone, and alerts for "no movement," sound, and awake/asleep notifications.
The app's versatility allows for shifting use as the child grows, and its activity window helps parents track sleep patterns and identify trends. These features make the Miku Pro Smart baby monitor a reliable tool for parents of children up to 10 years old.
Easy to Set up:
The Miku Pro Smart monitor comes with all necessary components, including a measuring tape and screwdriver, making assembly a breeze. With both written and video instructions available, installation takes less than 30 minutes, and the process is foolproof.
Mark the center of your baby's crib with the measuring tape. (Be sure that the crib is placed within six feet of a plug in so you can easily connect the power cord.)
Mark the wall 60 inches up on the midline.
Hold up the wall mount to your marking and confirm it is level (yes, a level is included in the Miku box!)l.
Mark the wall through the two holes and remove. Use the screwdriver and wall anchors to secure the wall mount to the wall.
Miku Pro Smart Baby Monitor in Action: What to Consider
The Miku Pro Monitor uses the phone as the video receiver and display, which can be inconvenient on nights when parents want to use their phone for other purposes. While alerts can notify parents of any issues, a secondary screen option would be helpful. Additionally, the floor stand system, which offers more portability, is sold separately from the main wall mount kit.
Pro vs. Original
There are two versions of the Miku baby monitor: the Pro and the Original. While both have many of the same features, the Pro is the better choice due to its ability to track breathing and sleep patterns for children up to 10 years old, while the Original only goes up to 1 year.
Additionally, the Pro has a better camera and microphone system, and comes with a more versatile mounting system.
8-core processor: your data is more accurate and safe, with local processing
Wide view feature, offering 140 degrees of your baby's crib.
Ambient light monitor: the Pro monitors how morning sunshine or a crack in the door impacts their slumber
2.4 & 5GHz support: the Pro can connect to both types of Wi-Fi.
Final Verdict:
If you are on the lookout for an all-in-one monitor that offers live breathing analysis without a wearable device required, the Miku Pro Smart Baby Monitor is ready to deliver.
There are other technology aids to consider, some at a lower price point, but none quite as all-inclusive as the Miku Pro. As you compare features and assess the full scope offerings of the Miku Pro Smart Baby Monitor, keep in mind that this monitor offers breathing tracking, sleep insight, and a customizable app, all without requiring your baby to wear a device.