When your girl is one year old, she is learning quickly day after day. For her development on track, make sure to provide a little girl with something that comes from the best toy collection for a 1-year-old girl. It could be the educational games, books and more includes tons of interesting toys that your little one will love. These are carefully designed toys, especially for the growth of babies. If you want to stimulate her thinking and have a bright smile on her face, please choose the best toys and gifts for a baby girl.
Children love toys and gifts. But, finding the best toy or gift for a 1-year-old girl can be very challenging, because not only should it be unique, but it should also be safe and beneficial for their development. In this article, we have selected and reviewed the best toy and gift ideas for 1-year-old girl, and hope your decision could be easy.
Toys And Gift Ideas For One Year Old Girl
1. Fisher-Price Laugh & Learn My Pretty Learning Purse
The little girl finally started to feel like a lady. Carrying her stylish colorful purse will make her look more beautiful. The size of the belt is suitable for the baby's height and shoulders. This fun game toy has various accessories that can help babies learn letters, numbers, colors, and how to play a lady.
The wallet has a handle and a zipper to activate sounds and songs after opening/closing. Moreover, everything fits perfectly in the wallet; they can also add some toys and can imitate a mummy or pretend to have fun. The color is also girlish, and the design is beautiful and durable.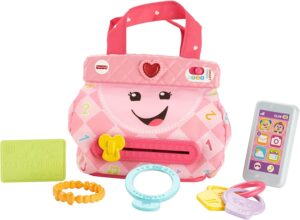 2. Mary Meyer Taggies Developmental Baby Doll
Mary Meyer Taggies baby doll is a soft 8-inch tall pink doll with a variety of fabrics/textures to help your baby become familiar with various textures. She has a beautifully embroidered face, soft body, silk feet, and a beautiful hat. This is the perfect gift for your 1-year-old baby girl.
Despite the bright colors, it is also durable and easy to clean. When the doll needs to be moved around, this little girl will find the decorative label with the trademark easy to grasp. It encourages the baby to grasp and hold, thereby stimulating her finger dexterity. This is also a cute doll, so if your little ones like to take a nap with a doll, this will be a good addition.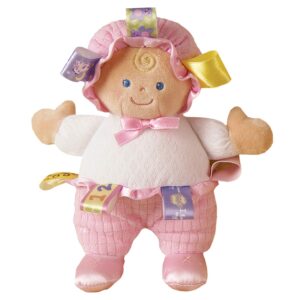 3. Corolle Mon Premier Calin Charming Pastel Baby Doll
You will love the baby's face because she hugs and embraces this soft doll full of beanbags. The doll is 12 inches tall, has a smooth face with a vanilla fragrance, and is dressed in bright pink and white colors with a matching cap.
Your baby will fall in love with this doll that looks so real because she will also take a nap. Thanks to her opening her eyes when sitting down, and closing her eyes when lying down. In this way, you can persuade the baby to take a nap just by putting down the doll.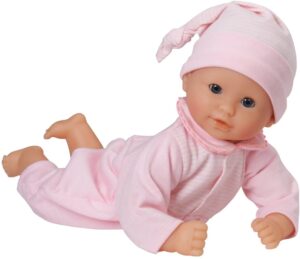 4. Fisher-Price Brilliant Basics Rock-a-Stack
This stacking ring provides skills practice for grasping, gripping, stacking, shaking, and exploring. Each ring is a different bright color, and the smallest ring provides a glossy reflective surface. The smallest ring has a small number of colorful beads inside, which makes an interesting rattle when shaken.
This great toy can help encourage early babysitters to sit down and play. When stacking the ring, making it both fun and challenging, it will also cause a slight shake. When playing with Fisher-Price's stacking toys, children will enhance hand-eye coordination, introduce body shape and relativity, and improve overall motor skills.
It is made of soft washable plastic, which can safely teeth. This is a colorful and simple way to introduce your child to stack.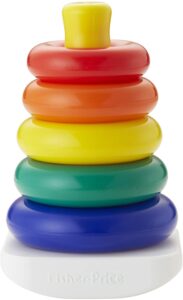 5. Fisher-Price Laugh & Learn Magical Musical Mirror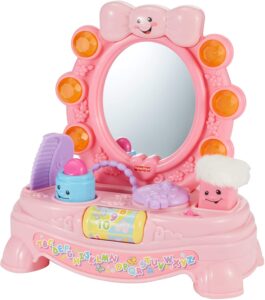 The toy enables babies to learn how to count, recognize colors, letters, and distinguish textures. It has 15 songs, tunes, and phrases to carry with you, which can activate when the compact speaker is turned on or off.
Moreover, when the baby's learning and entertainment are over, the accessories can neatly put back into the dressing table. It is very beautiful and high quality, so if your little girl shows a strong interest in mirrors, or if they want to imitate you when putting on makeup, please buy them this magical musical mirror.
6. LeapFrog Learn & Groove Musical Table
Babies will love this very interesting toy. It includes up to 40 melodies and 15 different activities to entertain children and keep them busy for hours. Babies will explore these activities by scrolling, rotating, tapping, and sliding different keys and buttons to obtain different songs and melodies.
If you are looking for a way to introduce children to numbers, letters, and shapes, then this is the perfect toy. It also has a variety of bright colors, so they will also start to master them. It is very durable and versatile, so it won't bore the baby anytime soon. Also, it has a temporary battery, so it can be used.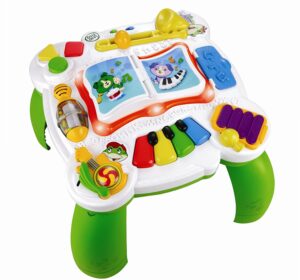 7. Playskool Explore N' Grow Busy Ball Popper
This fun-filled toy has 5 colorful balls that can be popped, rolled down, and down the ramp. After pressing the button, the ball will start to pop out and slide back to the ramp, accompanied by lively music and interesting sounds, just adding fun to the game.
If one of the balls falls, this will be an opportunity for you to experience how your baby can exercise his eye-tracking and motor skills to restore himself. This perfect toy can help your baby enhance his eye-hand coordination, motor skills, and causality while keeping them active.
It is also a musical toy with 8 joyful songs, which can bring you more entertainment. The overall quality is sturdy and durable, and the design for children is safe. It is suitable for children over 9 months old.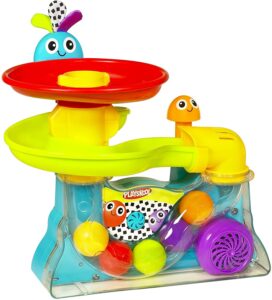 8. Anatex Deluxe Mini Play Cube
The toys introduce children to visual tracking, hand-eye coordination, math, color, and sensory learning. This is a sturdy and durable mini-game block and carefully designed to ensure safe use by babies. Various colors will help attract the baby's attention, and Pathfinder will keep their little hands busy for a while.
The wire is very strong and durable, so it can withstand the constant use of your child without deformation. Again, its size is just right, occupying only a small space in the toy area, and there are no scattered fragments.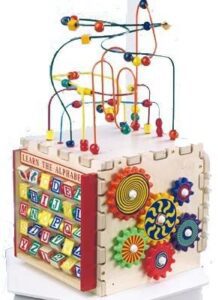 9. Melissa & Doug Classic ABC Wooden Block Cart Educational Toy With 30 Solid Wood Blocks
This colorful wooden trolley can pull ropes and has 30 blocks to help babies learn letters, numbers, pictures, and colors. Children can stack, sort, and match larger blocks. The development and exploration of motor skills are also practiced here.
This durable toy is also very safe for babies and light in weight, so they will be easy to pull. Also, the best part is that once you have used all the blocks, you don't need to find a storage bag to store all the blocks. You just stack them back in the shopping cart and store them.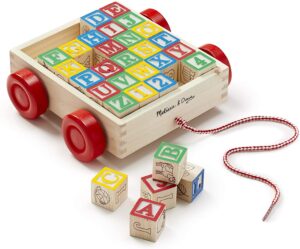 10. Melissa & Doug Sunny Patch Finney Fish Ball
This rubber ball has a blue background, and decorates with green and orange fish. This is an ideal method for throwing and catching outdoor games and learning toys. This colorful light ball helps to improve general sports skills, social skills, and wonderful outdoor sports.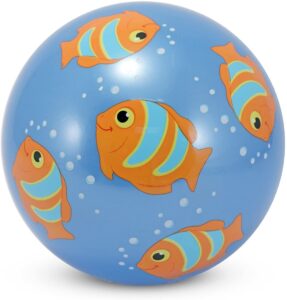 11. Playz 5pc Kids Playhouse Jungle Gym w/ Pop Up Tents, Tunnels, and Basketball Pit
This adventurous 5-piece tent is the most incredible outdoor play toy for kids. It has interchangeable parts and can be customized to create the most suitable combination. It has 5 mesh holes, a ball pool that can hold 200-1000 balls, a basketball hoop, and a tunnel made of breathable and flexible mesh. The specially designed anchor ring keeps the tent protected in windy days.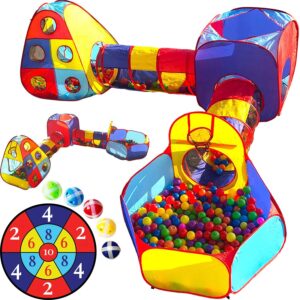 12. Musical Dancing Penguin Toy
This colorful bumper penguin is the perfect gift for children. It will tell a story or play music. Children always entertain by story mode.
It will tell different stories; music mode, which will play different types of music while dancing; and learning mode, that will require you to touch certain parts and follow instructions. The penguin was walking around and happened to hit an obstacle. It would automatically change direction.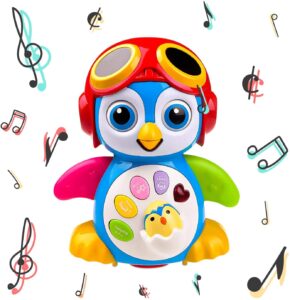 13. Amy & Benton Piano Keyboard Toy for Kids
This is the ultimate toy for your little musician. These 24 multifunctional toys will help build the baby's self-confidence, promote brain development, recognize music theory, enhance hearing, and exercise eye-hand coordination.
It has a record and plays button, and children will be able to correct and learn from their mistakes. It also has volume control buttons.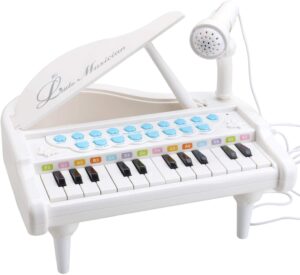 14. Wooden Pull Along Toy Set Of 3- Beautiful Giraffe
This set of 3 wooden pull toys includes elephant, giraffe, and zebra. Toddlers will love to take their new pets for strolling indoors and outdoors. For children, this is also an early introduction to the wild.
It also helps with hand-eye coordination, balance, and helps babies teach walking early. Babies understand the wild, animal colors, and body parts.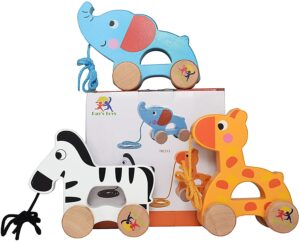 15. Amy & Benton Kids Birthday Cake Toy with Counting Candles & Music
Celebrating birthdays is a sure way to affirm children's lives. Bring this little toy; every day will be your child's birthday. Different buttons will perform different tasks, such as singing birthday songs, lighting candles, and flashing; asking children to make a wish.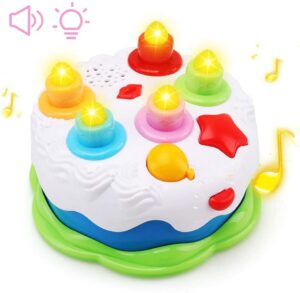 16. Radio Flyer 4-in-1 Stroll 'N Trike
This 4-in-1 tricycle can make the strolling time of mom and me more enjoyable, and the baby will grow up with it. These include baby tricycles, steering tricycles, learning to ride, and classic tricycles. Each of these functions will be able to fully meet the needs of babies and ensure that children can learn and enjoy all the time.
It has a 3-point fixed seat belt, a high rear seat to ensure baby safety, a movable safety tray with a cup holder, and an adjustable seat. Other features include adjustable handles for adults to manipulate and stroll and a movable canopy for UV protection and pedals. In early childhood, the pedals act as foot pedals.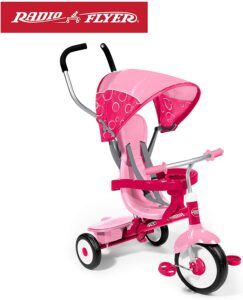 17. Discover & Play Piano Musical Toy
"Discover & Play Piano Musical Toy" has soft cloth piano keys that can quickly respond to touch, thereby enhancing creativity, cognitive ability, and sensory development.
Besides, the toy also has a high-quality plastic structure that can be used safely. This miniature piano can enable little boys and girls to maximize their learning potential. It features classical music and animal sounds, which is fun and interesting. The toy has a volume-setting button that allows you to adjust the sound to achieve a quiet game.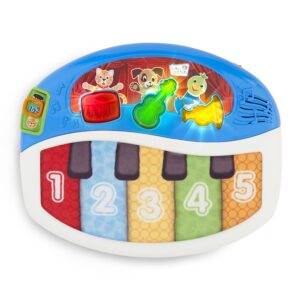 18. Lamaze Fifi The Firefly
Fifi fireflies are an amazing hug and hug toy for children. Fifi has different functions on her layered wings. Babies can admire and explore their faces, focusing, and tracking images in the mirror.
The click sound awakens the child's hearing; the screamer closely related to the child's hearing; the knotted chewing tentacles and ladybug gum can soothe the baby's gums. Her belly is bright and soft, and her back has a black and white pattern to help the baby stay focused.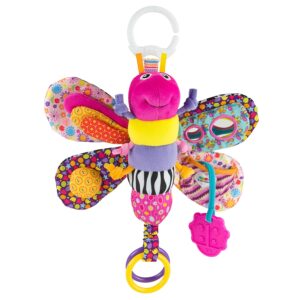 19. Fisher-Price Laugh & Learn Learning Kitchen Activity Center
This is a fun-filled toy that can keep babies busy for hours while stirring the soup and ensure that the food in the oven cooks well. Whenever the refrigerator is open/close, there will be a song to entertain the children.
The cooking time is full of music, which includes more than 20 singing rhymes, sounds, lights, and 4 performance modes. And since this is a double-sided toy, babies can explore.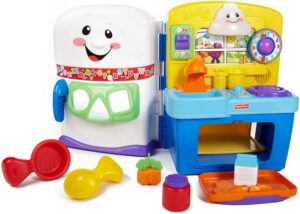 20. Fisher-Price Brilliant Basics Stroll-Along Walker
When a child starts to take his first step, this cute stroller will provide support and help. Every time you take a step, the music starts to play, or when the shaking bear's belly is pressed, the music starts to play.
Because there is a spinner, roller belt, and a flipbook, their hands will also be occupied. Baby strollers can help babies build motor skills and promote early role-playing and nurturing.
It has a broad stable base and is easy to grasp, so there is no need to worry about babies being occupied. The stroller is also very spacious, so the baby will be generous enough to stroll with his partner.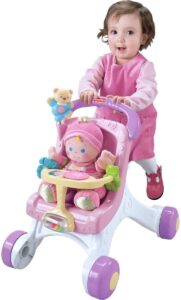 21. VTech Baby's Light-Up Laptop, Pink
Finally, children will have their laptops for imitating games and learning. It has 9 buttons-6 of them have different shapes and colors, which can teach babies letters, numbers, shapes, colors, English and Spanish.
In addition to learning, there is entertainment. This mini laptop comes with a three-key piano. LED screen, volume control buttons (for quieter playback) and small mouse functions can continue to increase the playback time.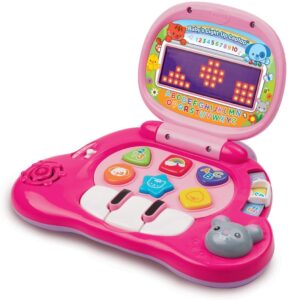 22. VTech Spin and Learn Color Flashlight – Pink – Online Exclusive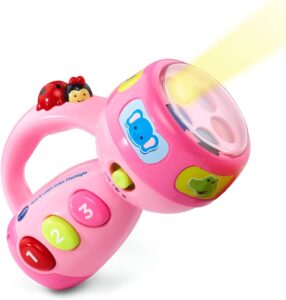 This early learning pink flashlight has exciting songs, colors and music that can teach children about numbers, animals and colors. The flashlight comes with more than 50 songs, sounds, music and phrases. The beautiful ladybug can activate the sound and ensure that the baby's attention is fully captured.
It has 5 rainbow colors, which are neither too bright nor too dark to enable the baby's visual development. The flashlight will use the battery. If the flashlight is not used for at least 45 seconds, it will automatically turn off.
It also has a volume control button to reduce playback time. It has an easy-to-grip handle that is easy for babies to take away.
23. VTech Sit-to-Stand Learning Walker, Pink
This learning-to-sitting standing walking aid is suitable for children from 9 months to 3 years old. With adjustable wheels, it can move on hard surfaces (including carpets), so it can accommodate the baby's first step.
It has functions such as pretending to be a telephone; to help improve children's imagination, five piano keys: help encourage creativity and produce notes.
With 70 accompanying songs, rotating rollers, shape classifiers and illuminated buttons, sound effects and phrases, it is ensured that little ones can not only practice walking, but also develop motor skills and learning.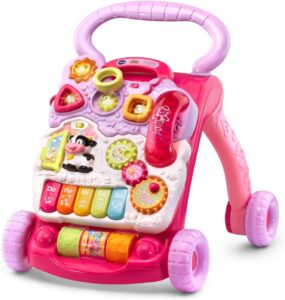 24. Green Toys Dump Truck for Improving Gross Motor & Fine Motor Skills
This dump truck made of recycled plastic has no BPA smell, exterior coating or PVC, so it is safe for children. The girl is introducing to use drag sand technology to help them develop motor skills. She will learn dumping techniques through her imagination skills.
The tires are threaded, so the dump truck will easily withstand various terrains. With a large and deep trunk, the dump truck will be able to carry huge cargo and can tilt forward and backward during loading and unloading. It is suitable for indoor and outdoor use and is very easy to clean.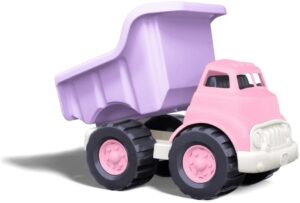 25. Step2 Whisper Ride II Ride-On Push Car, Pink
This super toddler putter has carefully designed to mimic a car. It is firmly secure by a safety belt, a horn and two-cup holders for babies and mummies. They need to be hydrated or eat snacks when they walk.
In case a little child needs to carry her baby, there is a spacious storage space on the car hood to take care of this. Adults have an easy-to-fold handle, which can enhance easy-to-fold storage and transportation capabilities.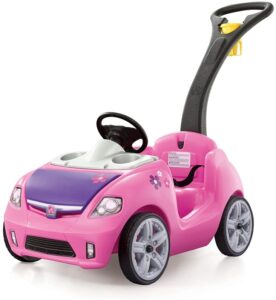 26. One Two Squeeze Baby Blocks – Educational Baby with Numbers, Shapes, Animals & Textures
These are fun and suitable for toddlers and babies to play. They are super soft blocks and do not contain BPA, so children can bite, squeeze or float them without disturbing their parents. The interesting thing about these blocks is that the small blocks stack them up to form a wall, and then kick them down.
There are 10 blocks, each block is composed of different images to delight and educate children, and because the colors attract them, they will arouse their interest and attract them for hours.
Babies will also learn colors, numbers and hand-eye coordination. After the game time is over, put the wooden blocks neatly back into the reusable bag.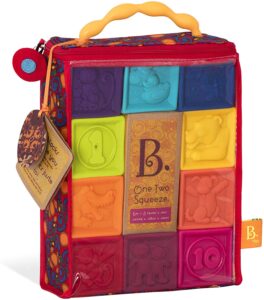 27. Fisher-Price Laugh & Learn Smart Stages Chair
Every child grows up at his own pace. With this magical smart chair, parents will be able to choose the stage most suitable for the baby. Just slide the switch or enter the age of the child and it will automatically activate.
Little children will be able to learn appropriate songs, phrases and sounds. When the child sits on the chair, the music is activated. Press the lighting remote control to learn more about numbers, colors and shapes. There was also surprise when the mat was lifted.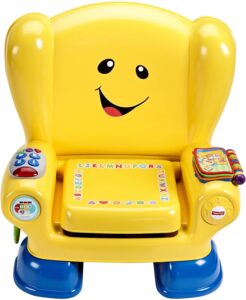 28. Fisher-Price Laugh & Learn Say Please Tea Set
The child will now start to organize her tea party, where she can get along with family, friends, or her favorite doll. After the tea ceremony opened, greetings began, and some stupid singing followed. Once the pot is tilted, the teapot will also start to make the sound of pouring tea into the cup.
This tea set comes with 2 cups, 3 tea time triangle, square and round edible biscuits, very suitable for placing on trays and teapots. Babies understand the opposites of numbers, manners, shapes, music, imagination, and greetings. It also established their social skills and the concept of sharing.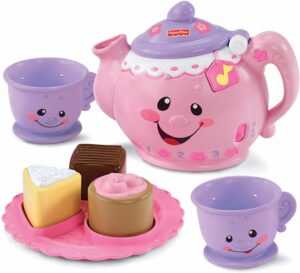 29. Radio Flyer Classic Wagon Walker
This station wagon is perfect for the stage when your baby starts to "crawl" or walk around the room with something. This is the best toy because it allows babies to practice walking skills while enhancing their independence.
First, weigh it with a heavy book or heavy object, and then slow down. Kids love to use them because with the help of this wagon they can explore each corner of the home.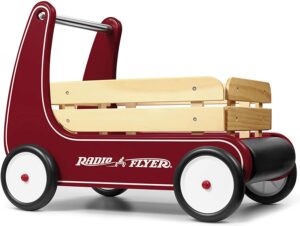 30. Little Tikes Cozy Coupe
With a history of more than 40 years, this car has been attracting toddlers, and it must be popular for decades. By the time they are about 18 months old, most young children will be able to "drive" a classic coupe by themselves, which means they can step on it with their feet.
The smooth plastic shell will not leave marks or scratches on most surfaces, so it is suitable for outdoor use; plastic tires can also handle bricks and concrete.
31. Pewi Y-Bike
At the beginning as a walking trainer, when the child is still in infancy, it helps to strengthen core strength and strong motor skills, and this stable four-wheel walking or ride toy is brought when the child stands up the pure enjoyment.
This innovative riding method is most suitable for children who are in a balanced state between 12 and 16 months. Standing freely on a walking partner can increase awareness of body and space, which is a key factor in balance and motor skills development.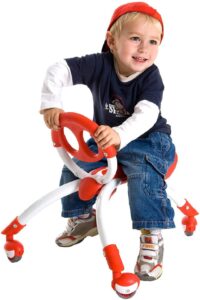 32. Grimm's Nesting Wooden Rainbow Blocks
These colorful wooden blocks can usually be found in Montessori and Waldorf classrooms, as well as in more basic rectangular versions. Each arc in this nested set can be stacked, balanced, and combined with other arcs to create a fictional city scene with bridges and buildings, or simply conduct texture and gravity experiments.
Stacking is fun, but even if they don't have enough coordination to stack toys, they still want to see you stack them and then remove them.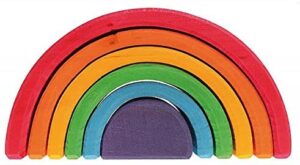 Unique Gifts and Toys for a 1-Year-Old Girl
Children learn by watching, touching, hearing, etc. Our responsibility to make everything may help them learn and develop as a completely available at every stage of their lives.
Over the past year, she has achieved huge development milestones, and she may need to replace toys to help in the next phase. This is why we have chosen the best toys and gift ideas for 1-year-old girls to help you choose toys that suit their needs.
Unlike the mass-produced toys in most stores, gifts for children under the age of 1 will not irritate or bore them within a few weeks. On the contrary, your baby girl's first birthday will be even more memorable, because you will give her a special gift to keep her playing for a few months.
Always keep in mind while choosing the best gift or toy for your little princess, she is growing and trying to explore new things. Therefore, you choose a meaningful toy or gift for your fairy.