Our blog has top choices in various categories to inspire and assist you in making an informed decision baby Seats.taWhen it comes to choosing a car seat for your little one, safety should be your top priority. While many convertible car seats can accommodate newborns, infant car seats are specifically designed with their needs in mind. They offer additional targeted support for a baby's neck, head, and spinal cord, which is crucial during those first few months of life. On the other hand, booster car seats are made for bigger kids who no longer require the support provided by infant and convertible car seats.
How do I Choose an Infant Car Seat?
What are the Most Important Infant Car Seat Features?
With so Many Options, which Seat is Right for Me and My Baby?
What is the Price Range for Infant Car Seats, and does a Higher Price Necessarily mean Better Quality?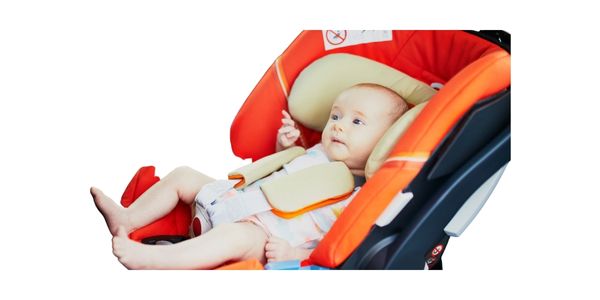 In addition to the added support, infant car seats are generally smaller than convertible options. This makes it easier to access your baby when getting in and out of the car.
When choosing an infant car seat, Our Infant Car Seat Guide will help you pick the infant car seat that's best for you and your baby with these 9 practical tips. You've got questions? We've got the answers.
How To Choose An Infant Car Seat: 9 Important Things To Look For
1. Safety: Is the Car Seat Safe and Legal in your Country?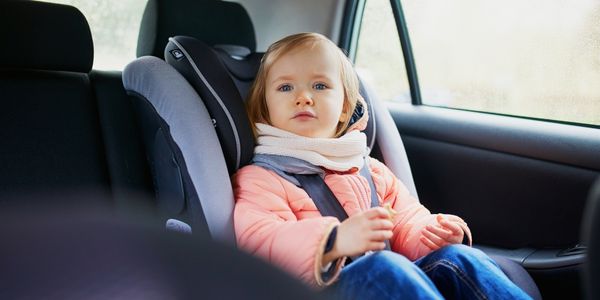 When it comes to choosing an infant car seat, safety should be your top priority. You want to ensure that the car seat you purchase is not only legal but also meets safety standards set by the national organizations in your country.
For example:
In the U.S., the National Highway Traffic Safety Administration "NHTSA issues Federal Motor Vehicle Safety Standards (FMVSS) to implement laws from Congress"is responsible for testing and evaluating car seat safety.
They conduct crash tests and assign safety ratings to every car seat sold in the country, ensuring that they meet minimum safety standards. So, be sure to do your research and choose a car seat that has passed safety tests and is legally approved in your country.
The American Academy of Pediatrics (AAP) is a reliable source for parents to learn about infant car seat safety. According to the AAP, it is recommended that infants and toddlers should ride in a rear-facing seat for as long as possible.
Manufacturers have created car seats that allow children to remain rear-facing until they weigh 40 pounds or more, which means most children can stay rear-facing beyond their second birthday.
Dr. Benjamin Hoffman, the lead author of the AAP policy statement and chair of the AAP council on injury, violence, and poison prevention, emphasizes that keeping a child rear-facing is still the safest way for children to ride. To evaluate the safety of car seats, the NHTSA crash test scores are used as part of the overall rating.
The Chicco KeyFit 35 and UPPAbaby MESA have been rated as the best infant car seats in terms of safety.
Car seats will expire within five to seven years. It is crucial to check the expiration date of a car seat before making a purchase. For further information on the expiration date of infant car seats, please visit educational sites such as the National Highway Traffic Safety Administration (NHTSA) website."
2. Size: Is the Car Seat Appropriate for Your Infant Height & Weight?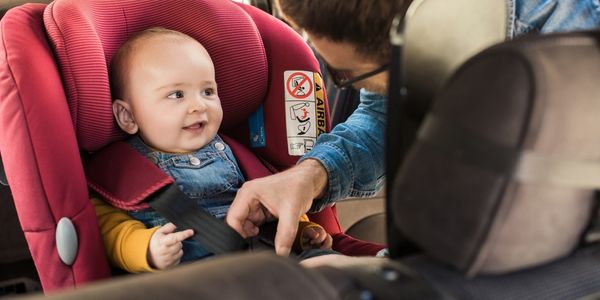 The 2nd most important thing to keep in mind when choosing an infant car seat is the height & weight limit. It's important to note that age alone is not a determining factor for car seat fit.
The key is to follow the manufacturer's guidelines based on your child's height and weight.Each car seat stage is uniquely designed to protect your child at their current stage of body development.
 Infant seats are typically suited for babies 5-35lbs and up to 32″
Convertible seats are usually for kids from 5-65lbs and up to 49″.
Harness to booster seats fit children from 25-120lbs since they transition to a high back booster with seat belt mode. They can typically stay in harness mode until 50-65lbs.
All-in-One car seats are compatible with children from birth to 120lbs and transition from rear-facing to forward-facing like a convertible seat, and can also be used as a booster seat without the harness.
It's crucial to have a properly sized car seat for your baby to ensure safety. The CDC estimates a 71% reduction in car accident fatalities.
Infant Car Seat Vs Convertible Seat, Which is Best?
Choosing the right car seat for your baby is a critical decision that can affect their safety while traveling. Infant car seats and convertible car seats are two of the most common types of car seats available. In this comparison, we'll highlight five key points to help you decide which one is best for your child.
Points of Comparison Infant Car Seat Convertible Car Seat
Age Range Birth to 2 years old Birth to 4 years old (or beyond)
Portability Easy to move in and out of the car Heavier and not as easy to move
Installation Quick and easy to install More complicated installation process
Cost Less expensive More expensive
Longevity Short-term use only Long-term use
3. Comfort: Is It Safe for My Baby to Sleep in a Car Seat?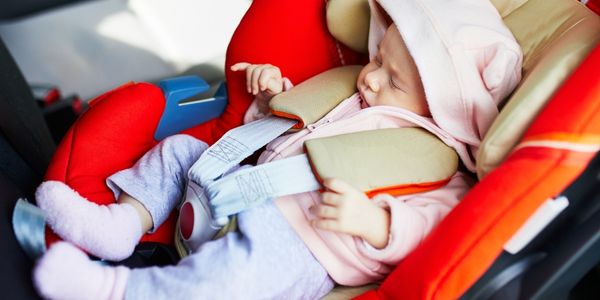 It's a struggle when your baby cries throughout a car ride, especially if they're uncomfortable in their car seat. To keep them cozy, two crucial things to look for in an infant car seat are extra padding and breath-ability. The UPPAbaby MESA is an excellent option for comfort, thanks to its soft and lightweight Merino wool fabric that allows air to circulate. It's a top choice to keep your baby content during car rides.
Car seats are unsafe for babies to nap or sleep overnight due to the risk of suffocation from head falling forward.
4. Installation: How Easy is it to Install the Baby Car Seat?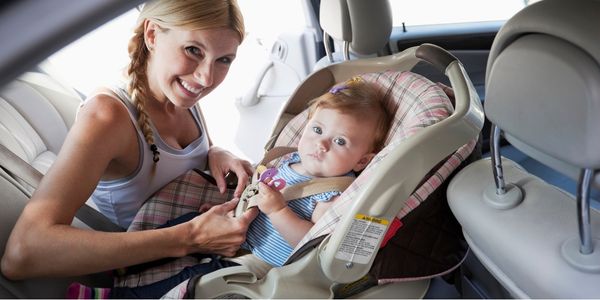 According to a study, up to 95 percent of parents install their infant car seats incorrectly. This highlights the fact that installation is not as easy as we all thought, as car seats come with various recommendations and restrictions, and cars are different, so the best way to fit a car seat into your specific car needs to be determined.
When choosing an infant car seat, ease of installation is crucial since you'll be taking it in and out of your car frequently. First, ensure that the seat will fit your car, especially if you have a smaller vehicle.
You can measure the available space at the back of your car and compare it to the seat's dimensions. Most infant car seats come with a base that you can install once in your car, making it easy to clip the seat in and out as needed. Plus, the LATCH system makes installation even easier.
A study of nearly 300 families found that only 5% installed car seats and positioned newborns without major errors. Over half had older children, and half of those who made mistakes had 5 or more errors. Only 1 in 5 families made a single mistake.
5. Maintenance: Is it Easy to Washable & Maintain?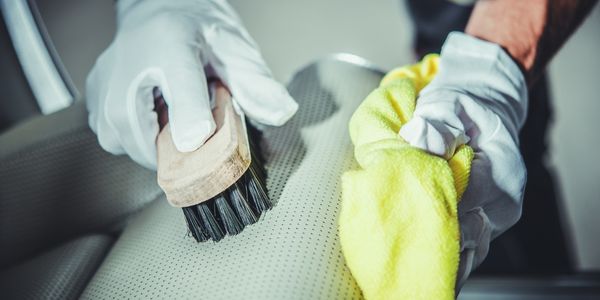 The ease of washing and maintaining a car seat is crucial. It's a frequently overlooked factor but can be a nuisance when stains appear. We rate infant car seats based on this and include it in our reviews.
Cleaning a car seat may be quite the endeavor, but it's one that's well worth the patience and care to ensure the safest ride for your little one.
6. Expiration date: How Long Do Car Seats Last?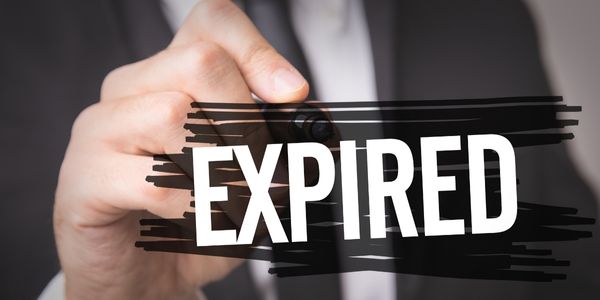 If car seats have an expiration date, what is it?All seats come with an expiration date, usually between six and ten years from the date of manufacture.Therefore, you shouldn't use or buy a car seat that's older than six years, or one past the date specified on your particular model.
If you plan on using the seat for multiple children, make sure to take note of the expiration and never use a car seat that has been in an accident.
Expired car seats may not adequately protect riders in the event of a crash. That's why the American Academy of Pediatrics (AAP) urges parents to avoid using car seats that are past their use-by dates, or seats without expiration dates that are more than six years from date of manufacture.
7. Choice: How Portable is it?
While weight alone shouldn't determine your choice of car seat, it's still a factor to consider. In our reviews, we assess the portability score, particularly for seats with a bulky design or obstructive handlebars for hand-carrying.
8. Features: Does it have the Features that are Most Helpful to you?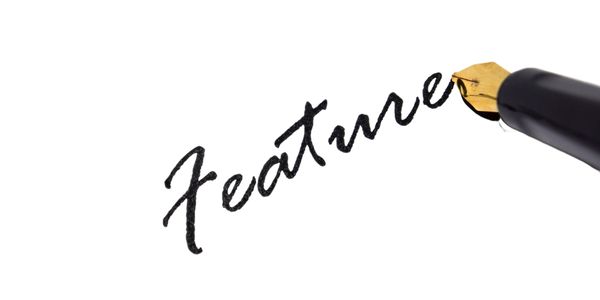 Here are the safety features you should look for to ensure your little one stays as safe as possible in the event of a crash.
Five-Point Harness
A five-point harness is safer than a three-point harness because it spreads the force from a crash over more areas of the body. Look for a harness that consists of two shoulder straps, two waist straps, and a between-the-legs strap that all meet in a middle buckle.
Easy Harness Adjustment
Proper harness adjustment is crucial for your child's safety, so look for a seat with an easy-to-adjust harness. A no-rethread harness allows you to move the shoulder straps up and down without having to manually reroute them.
Higher Rear-Facing Weight Limit
Riding rear-facing is safer for your child than forward-facing. Choose a seat with a high rear-facing weight limit for extended use.
Side-Impact Protection
Side-impact protection is crucial because about a quarter of crashes involve a side impact. While side-impact protection is currently unregulated, look for a seat that advertises this feature. Be skeptical of claims that one brand has "more" than another, as there is no objective testing standard yet.
Avoid Buying Used
We don't recommend buying a used car seat because it may be damaged and may not meet current safety regulations. If you do buy used, research the seat's history, look up the expiration date, and check for any recalls.
Safest Placement in Your Car
Not all car seats fit in all cars, so make sure to measure your car's back seat and compare it to the measurements of the car seat's base. The angle of your seat and the placement of your seat belts can also affect whether a car seat will fit properly in your car.
The middle of the back seat is usually the safest spot, but some cars only have LATCH on the outside seats. Consult your vehicle's owner's manual for any special instructions, and consider reaching out to a Child Passenger Safety Technician to check your work.
Consult your vehicle's owner's manual for any special instructions. And don't hesitate to reach out to a Child Passenger Safety Technician (AKA a trained car seat expert) to check your work.
9. Car Seat Costs: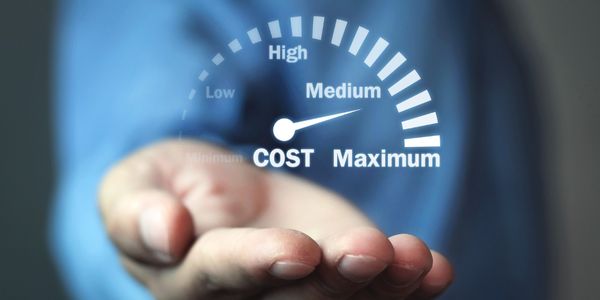 The cost of a car seat can range from around $50 to over a thousand dollars. But the price tag doesn't necessarily equate to better safety for your child. While more expensive car seats may feature higher-end fabrics. The additional recline angles and safety extras like a stability leg, there are still many mid- to lower-priced car seats.
Ultimately, the key is to find a car seat that fits your budget and vehicle, while still meeting the necessary safety standards. It's crucial to research and compare different options to make an informed decision and prioritize the safety of your child above all else.
FAQs
As a parent, choosing the right car seat for your child can be a daunting task. Safety is paramount, and there are numerous options on the market. Therefore, it is essential to arm yourself with the right knowledge to make an informed decision. Here are some frequently asked questions and answers about car seats:
Q: Which Side of the Car is Safest for a Child Seat?
A: According to both the National Highway Traffic Safety Administration (NHTSA) and the American Academy of Pediatrics (AAP), the middle seat is the safest place to install your baby's car seat. The NHTSA also recommends that all children under the age of 13 ride in the back, ideally in the center.
Q: What is the Best Car Seat for a Newborn?
A: The best car seat for a newborn depends on your needs and budget. However, our top pick for the best newborn car seat is the Chicco KeyFit 30. It offers excellent value for money and comes with an easy installation base.
Q: When Should I Change my Baby's Car Seat?
A: You should change your baby's car seat once your child reaches the height or weight limit of the seat or if the seat has been damaged or has expired.
Q: What is a Convertible Car Seat?
A: A convertible car seat is a seat that can be used for both infants and toddlers. You can adjust the seat as your child grows. There are numerous convertible car seats on the market, and you can find some of the best-sellers on Amazon.
Q: Do all Car Seats Fit in Strollers?
A: No, not all car seats fit in strollers. Most car seats will fit in a stroller of the same brand, and infant car seats from the most well-known brands can also fit strollers from other brands by using an adapter. We have written an entire guide to help you find the best car seat and stroller combination.
Q: What is the Best Time to Buy a Car Seat?
A: You should ideally buy your car seat at least a month before your baby is due. It is not advisable to wait until the last minute to purchase a car seat, as you may have other things on your mind. You will need the seat to leave the hospital, so buying one well in advance is essential.
Q: Can I Buy a Used Car Seat?
A: It is not recommended to buy a used car seat as it may have expired or been damaged. You should avoid buying a second-hand seat if you don't know how it was used or trust its seller.
The American Academy of Pediatrics recommends avoiding a used car seat if it has an unknown history. If it has been involved in an accident,or is too old.
It has visible cracks, lacks a label with the model number and date of manufacture. If it has been recalled, or does not come with instructions on how to use the seat (unless they are easily available online) or missing parts.
Decision Time
Remember, the safest car seat is the one that is properly installed – and correctly used – each and every time you or anyone else takes your baby out for a ride! After considering the factors that matter most to you and your family, it's time to make a decision on the best infant car seat.
Start by creating a list of priorities and use them to narrow down your options. Our blog has top choices in various categories to inspire and assist you in making an informed decision baby Seats. Our goal is to empower parents to make informed decisions.