The treadmill is getting more attention and becoming our need, especially in these epidemic situations. While our kids and elders are missing many outdoor activities, gym, exercise, and forced to stay at home. Kids are gaining weight but we are afraid to send them outside in these pandemics.
"HEALTH IS WEALTH" have you heard this proverb? Of course, you have heard this but are you applying this to your practical life. If not, even then it is not too late. It's not a tough job to get healthy, we just need to exercise regularly to stay healthy and fit.
Doctors and scientists have learned many ways to stay healthy. Even we can't ignore our children in this. They should exercise at least one hour a day. It could be an outdoor activity or spending some time on specially designed best treadmill for kids.
Kid Treadmill Accident Occurs.
Treadmills and children are not a good idea usually, because this kind of exercise equipment has many dangers. The power cord alone can become a suffocation hazard. The moving parts of a treadmill are another matter.
They can insert their fingers between the gaps and cause harm to themselves. If they can't keep up, running at high speed on the treadmill can cause them to trip and fall.
If you are looking for the best treadmill for kids then you can decide and choose the best for your loved ones from our experts' views.
Buying Guide a Treadmill for Kids:
Exercise is a good habit formed when you are young. As childhood obesity increases, it is best to help children learn how to stay healthy as early as possible. Of course, letting them play and exercise outdoors can meet this need.
But sometimes, bad weather or a lack of safe outdoor play places can derail their activities. To help them exercise at home, you can get a treadmill specially designed for children. But how to find the right one? Our buying guide should help.
Can kids Use the Manual Treadmill?
If you want your child to exercise at home, you can use a manual non-motorized or pediatric treadmill specially designed for children.
Even when using a manual treadmill, it is important to keep other children away from the belt while the belt is moving. Although children's treadmill designs should reduce these risks, it is best to be safe.
Are treadmills Safe Around Kids?
Keep young children away from moving treadmills. If older children are using a treadmill, always supervise them. Keep little fingers and hands as far away from moving parts as possible. In case of an accident, switch to a quick stop.
Our kids' Treadmills Safe
Technically, the answer is no. Moving parts are dangerous. Children's hands may be stuck in the gaps between moving parts, which may cause injury. If kids cannot keep up, they may fall and injure.
Even power cords can become a suffocation hazard. So, does this mean you shouldn't buy one for your child? But some treadmills are specially designed for children.
Motorized or Non-Motorized
A non-motorized treadmill like the RIYIFER kid's Portable Manual Treadmill simply means that your child is the person pushing the belt while he or she is walking on the belt.
This is a safety precaution in more than one way. The child does not need to keep up because he or she is the one who sets the belt speed. In addition, no automatic moving parts can accidentally harm your child.
However, non-motorized treadmills are usually designed to accommodate young children weighing no more than 100 pounds.
For older kids, an electric treadmill like Goplus Folding Treadmill is a better choice. They have formed a better sense of balance and can better keep up with the speed of the belt.
This treadmill has more bells and whistles and helps motivate your child to stick to the exercise plan. The child should not leave unattended on the electric treadmill.
Safety Feathers
Stability: Your child will walk or run on this treadmill, whether electric or not. If the child is leaning on one side, the unstable machine may accidentally tip over.
Durability: Treadmills, even children's treadmills, can be expensive. You need to make sure that it lasts much longer than your child's interest in exercise. In addition, children are unlikely to take care of their treadmills. You will want one that can withstand the children hanging on railings or pressing buttons hard, etc.
Space: Treadmills take up space, and treadmills designed for children are usually not foldable. This means that you should pay attention to the size (or small) of the treadmill and whether there is enough space in your home to accommodate it. For younger children, it is best to separate it from the machines in the home gym to avoid any accidents while he or she is exercising by your side.
Sidetrack: Even adults can hardly keep up with the speed of the machine, so it is not far-fetched for children to accidentally trip and fall on the treadmill. To help them maintain their balance, especially when they are tired, and to prevent tripping, side rails are necessary. The foam wrap on these metal tubes is also important to prevent calluses and eliminate potential safety issues.
Top Rated TREADMILL FOR KIDS in 2023
#1. HWOEK manual Treadmill for Child Boy Girl Easy Assembly for 5-10 Years Old Kids
HWOEK manual treadmill is a non-motorized children's treadmill with a display. Children can view their mileage. So the belt will only move when they push it with their feet. This reduces the risk of falling off the continuously moving treadmill belt, which can cause friction burns or trap children with moving parts. It is like a toy treadmill for your little one.
#2. PHASFBJ Children's Exercise Bike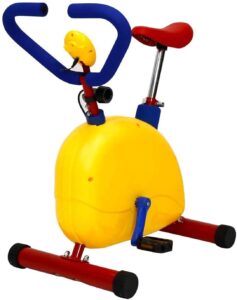 If you are looking for a simple toy form of exercise bike for young children, then this children's indoor bicycle entertainment and exercise equipment are very suitable for you.
Happy Bike is sturdy in structure, but light, easy to install, and uses McDonald's style color scheme (bright red and yellow) to attract children. It has a sturdy structure, but it is light and easy to install. It uses a McDonald's style color scheme (bright red and yellow) to attract kids.
#3. RIYIFER Mini Children's Mechanical Treadmill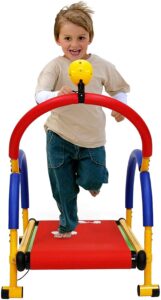 The latest children's innovative products are an excellent way for children to gain additional benefits while enjoying safe and healthy activities. This will motivate the 4-year old on treadmill to move and have an active lifestyle, which will benefit them throughout their lives, both now and in the future. It is safe for children because it is not mobile but self-propelled.
The fun and fitness health system for kids' treadmills is self-propelled and manually operated to ensure safety and promote a healthy lifestyle for children.
#4. Goplus Folding Treadmill Electric Running Machine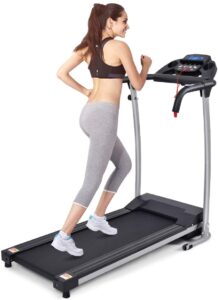 This is a brand new foldable treadmill. If you don't have time to go to the gym, run, or can't run due to bad weather, this is the solution. With this treadmill, your home is your gym to help you stay in shape. It has a multifunctional display, so you can track your progress, make it very sturdy, and it can be folded manually.
This Goplus treadmill is for 8 years old and very suitable for daily running exercise and fitness. Its space-saving foldable design does not sacrifice size and quality and makes your treadmill exercise challenging and effective. Keep running and burn calories to stay healthy and live a healthy life.
#5. Stationary Exercise Bike for Kids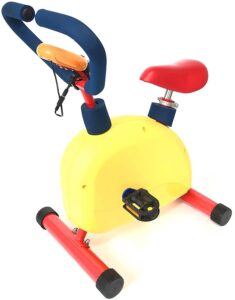 This fun children's fitness equipment set is a simple sunshine healthy fitness indoor bicycle with adjustable cushions, two pedals, handles, and a very simple driving mechanism. There is no motor here, children only need to step everyone's safety can be guaranteed on the pedal.
This is currently one of the best budget options for toddlers, and the price is cheap.
#6. RIYIFER Children's Portable Manual Treadmill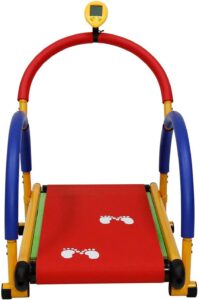 You can say this is child safe treadmill. It is easy for your child to feel happy while exercising. The fitness treadmill is designed with bright colors, and your baby will like it. The self-propelled (non-motorized) treadmill is a kind of exercise equipment that increases children's leg muscles and maintains health and strength. Your child can exercise with you.
#7. SereneLife Smart Electric Folding Treadmill
SereneLife smart digital treadmill is a great choice for fitness enthusiasts who don't have time to go to the gym. With this home exercise trainer, you will be able to achieve your dream body in the comfort of your home!
With this treadmill, your home will become an ideal gym for you to stay in shape. SereneLife SLFTRD20 adopts a stylish modern space-saving folding design with a reliable and sturdy frame for easy storage.
#8. YHWH Exercise for Kids 5-10 Treadmill Kids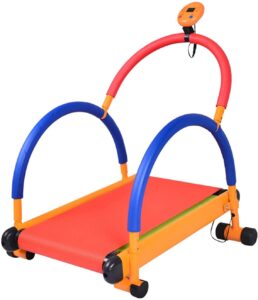 This is a non-motorized treadmill, specially designed for children from 3 to 6 years old. It uses a "no prompt" design to ensure the safety of children when using the treadmill. It also has an electronic monitor with a delay and automatic shutdown after 10 minutes. Because it is self-propelled, your child is less likely to fall or hurt his fingers due to any moving parts.
The metal tube of the treadmill is wrapped with foam to make it safer. All the tools you need to assemble are included. However, it is not easy for children to move the rollers. It does have a little learning curve. In addition, some parents report that the belt is not always fixed in place.
#9. Fitnex XT5 Kids Treadmill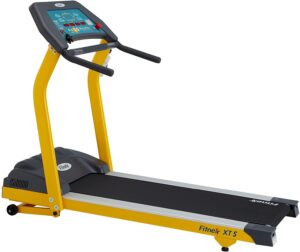 Fitnex XT5 kids' treadmill is similar to adult treadmills in many ways. It has multiple modes-aerobic exercises, endurance, fat-burning, and interval-and 7 feedback options. It has digital counters for distance, calories, time, heart rate, laps, and speed. You can even choose to change the height.
This treadmill is equipped with a bottle rack. However, since this is an electric treadmill, you cannot let your child use it unattended. It also did not conduct third-party testing to prove that it was designed following child safety standards.
FAQ
Can Children Use Treadmills?
Yes, they can. Treadmills are more suitable for older children. However, some children's treadmills are non-motorized, so they are safer for younger children. If children do use treadmills, it is important to teach them how to use treadmills safely.
How does a Children's Treadmill Work?
Most children's treadmills are non-motorized, so the belt will only move when they are pushing with their feet. This reduces the risk of falling off the continuously moving treadmill belt, which can cause friction burns or trap children with moving parts.
At what Age should a Child use a Treadmill?
The manufacturer has established its guidelines, so please read the user manual of the treadmill to understand its recommended age range. Children should be at least 12 or 13 years old to use this device, but please check your manual to make sure you understand.
In the last
It is very good to exercise at home, including using a treadmill, to set a good example for children. Children need more steps every day than adults, and you want to encourage children to play actively. Although treadmills seem to be a solution, safety should be the priority and keep children away from this equipment.