2 years old  boy can enjoy a reputation as "terrible", but they are also a blast.
Now that they have mastered the knowledge of walking, they like to pull trucks and things behind them. Moreover, as 2-year-old children learn to speak in complete sentences, they are also figuring out how to interact and interact with others.
It's time to do some shopping for your two-year-old boy! With so many choices, these choices may even make old moms at a loss! Everyone wanted to give a gift, which eventually became his new favorite so that we are presenting the best toys and gift ideas for your 2 years old boy.
These best gifts for a 2-year-old boy will facilitate your little boy grow up and find his connection with the world, but in most cases, these toys will bring smiles and laughter to his lips. From cars to drums to the perfect nap bag, everything is available, and you will find unique suggestions to give amazing gifts!
Best Toys And Gift Ideas For 2 Years Old Boy in 2023
All our research can make your gift-giving idea easier!
1. Lego Duplo My First Cars and Trucks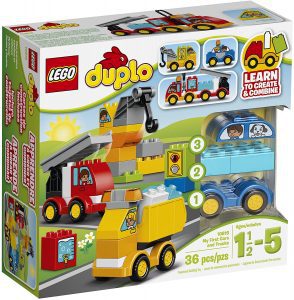 This Lego DUPLO My First car and truck will let your child start using Lego toys. Little boys like to play with cars, what better suits them than custom cars! You and your child can assemble and disassemble repeatedly to become a creation. Like other Lego toys, expand your Duplo toy collection in the future to include other kits that can be combined.
2. TOP BRIGHT Tools Toy Set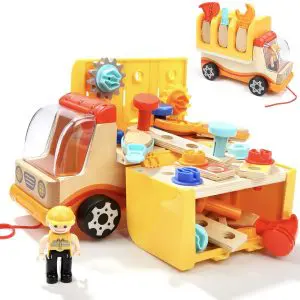 The TOP BRIGHT tool toy set is so cool! There are wrenches, screws, and other tools everywhere, which can bring a lot of fun game time. The truck not only stores all materials, but also breaks down into workbenches. Toddlers can turn screws, smash plastic nails into the workbench, and have gears that can rotate on it. You can also hang the truck on a rope and pull it back.
3. Power Wheels Lil Lightning McQueen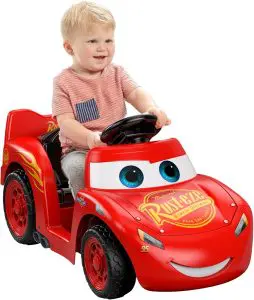 This cool Power Wheels Lil Lightning McQueen gave them the first Power Wheels gift. One-button operation makes it easy for them to find it, because it is a beginner, so the speed does not exceed 2 mph, and it has cool sounds and gadgets. This is a favorite gift for all toddlers!
4. VTech Smart Shots Sports Center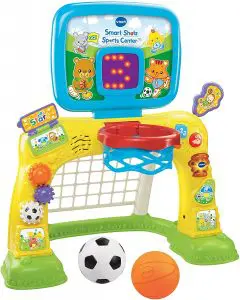 Is your child fascinated by all kinds of balls? Or trying to keep up with older brothers and sisters? With this beautiful VTech Smart Shots sports center, they can also become stars while practicing football or basketball skills. The LED scoreboard can track basketball scores up to 10 points, and encourage young children to use interesting phrases. They can practice dunking or scoring goals.
5. Melissa and Doug Chunky Puzzle Set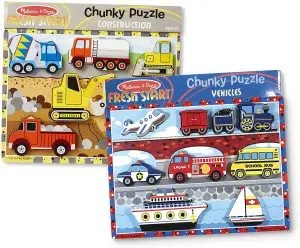 Children love puzzles! So, why not embrace their love of learning and find some of the best problems from it? The Melissa and Doug wooden block puzzle sets are not only durable but also cute.
The theme of architecture and vehicles will surely please your little one. The puzzle pieces are large and easy to grow by hands. The puzzle piece slides into the small cutout to click into place.
6. VTech Touch and Learn Activity Desk Deluxe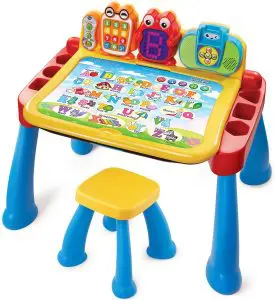 VTech's Touch and Learn Activity Desk Deluxe is perfect for the game room! It comes with 5 activity tables, each with a different theme-numbers and counts, fruits and colors, letters and letter sounds, human bodies, and music jammers. You can purchase other expansion packs separately to get fun that is more educational!
7. Radio Flyer Red Rider Trike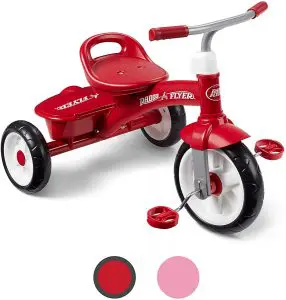 Radio Flyer Red Rider Trike is not only a name recognized by our parents but also our parents, grandparents, and great-grandparents. The company was established in 1914, and the previous generation of products is known for their superior quality and provides limited warranty through the company. The parts are durable and the customer service is reliable. If there is a problem, the "FAQ" section of the website is also easy to operate. Since two-year-olds come in various shapes and sizes, your little one may not be big enough to pedal.
8. Monilon Water Drawing Mat with 2 Magic Pens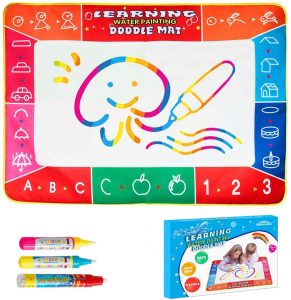 I like the originality of children's toys. The Monilon water-drawing pad with 3 magic pens like this did not exist 10 years ago, but it is a great idea! They can draw everything they want without making a mess. There is water in the pen, and as the water dries, the "artwork" disappears.
The mat itself is waterproof and can be rolled up. Its size is also 40 inches x 28 inches, enough for multiple children to paint on it or to paint with their parents.
9. Top Bright Magnetic Wooden Fishing Game
The TOP BRIGHT magnetic wooden fishing game is magnetic and wooden, which is very good because it is sturdy and durable (different from the plastic games we have). The toy set is equipped with 26 marine animals and 2 fishing rods, which can be retracted with the rotation of the handle like a real handle.
When a child grows up, he can use this combination to play math games and add up the numbers on all the fish he caught to see if he scores higher. Parents will like it in a beautiful round box that can be used to store games.
10. Green Toys Car Carrier Set
Little boys like any "vroom!" Parents like anything sturdy and easy to clean. A green toy car harness kit that everyone will love!
This set of toys is made of 100% recycled plastic in the United States, so it is called "green toys". But please don't twist it, they are not made of terror or junk plastic. This plastic is thick, durable, and easy to clean. The best part of all plastic is that you don't have to worry about rust or decay when your little ones are playing with this car. Even the dishwasher is safe!
11. Joyin Remote Control Car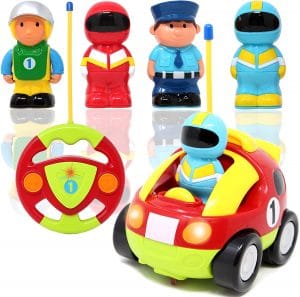 Your little one's first remote control car! The Joyin remote control car has 4 interchangeable roles and can go for a ride on the car. The controller is easy to use and only requires 2 buttons-one button can be moved forward and the other button can be rotated backward. Nothing is confusing, just a lot of fun for young children!
The car also hummed and the headlights flickered, adding a touch of effect. This is a must-have gift for a 2-year-old boy! The fun of multiple children is very suitable for taking turns learning.
12. VTech KidiBeats Kids Drum Set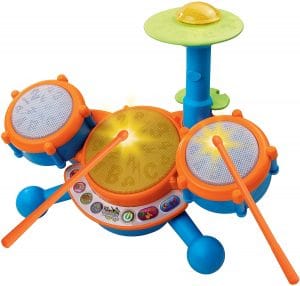 Parents may be tired of listening to VTech KidiBeats children's drums, but most children like to beat them on the rack for a few hours. A great toy that encourages musical skills. It also has a mode for teaching them letters and numbers and following songs.
He can try drums, a lot of melodies, dance music, and even letters or numbers. Great toys that can help children choose the right musical instrument for them and their unique sound and sensory development, causality.
13. Where Do Diggers Sleep at Night?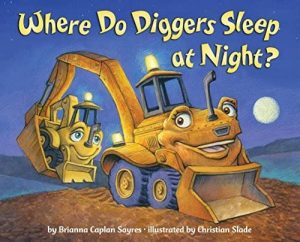 Books are the best way to connect with children and teach them to read. With the book "The Book of Excavator Sleeping at Night", enjoy a lovely story with your little man about how the excavator is busy resting in bed. A good way to introduce sleeping patterns and rhyming patterns.
14. LaScoota 2-in-1 Kick Scooter with Removable Seat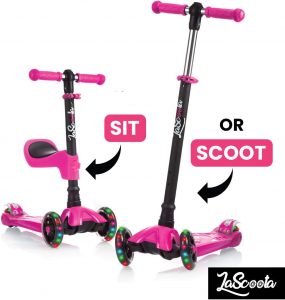 The reason we like the LaScoota 2-in-1 scooter with movable seats is that it will continue to grow with children until they are 12 years old. It comes with a movable seat that can be connected to the handlebar at two different heights.
The handlebar itself has 4 different height options, from 25 1/2 inches to 34 inches, which can accommodate children of all heights. The deck is wide, non-slip, and with flashing wheels.
15. LeapFrog My First Learning Tablet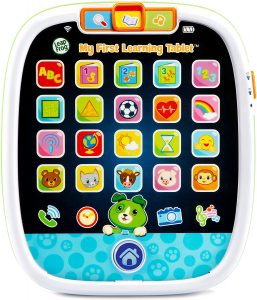 LeapFrog My Beginner Tablet PC will expand your son's language through cute and interesting interactive tablets, making them feel like they have their iPad. The toy includes 25 "applications" that can learn various subjects for children.
Your little man will love this toy because it has all the buttons, bright colors, and interesting characters. The home button helps them navigate back to the application easily.
16. Push and Go Toy Trucks Construction Vehicles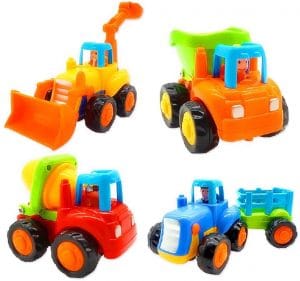 This push-push toy truck is a cute construction truck toy that is driven by friction, so just a light push in any direction, they will use momentum to drive themselves forward. The perfect size fits toddler's hands, and the bright colors keep them engaged and durable. This 4-player game includes a dump truck, cement mixer, bulldozer, and tractor.
17. Anyshock Car Play House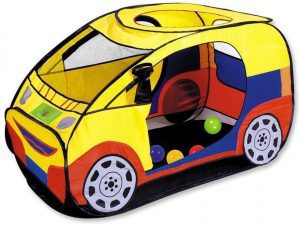 Children like various forts and this Anyshock car game house has appeared in the shape of a car. Since the fabric is waterproof, it can use indoors or outdoors. You can put it in their game room and fill it with balls to make a DIY ball pit. You can put some blankets in it for playing or sleeping. The sides can be opened or closed, and either way, the top is well ventilated.
The tent is very suitable for imaginative games and encourages children to enjoy themselves in their mother's space and enjoy their own space. They can take a short nap in the tent, have fun adventures, or go outdoors.
18. Fisher-Price Little People Caring for Animals Farm Set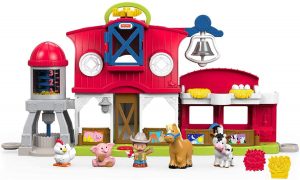 This farm features an interactive farm building with popcorn silos, animal stalls, hay sheds, hatching chicks, and enough songs and sounds to make your boy happy (and bring you to the edge of sanity). The suit is equipped with cows, chickens, piglets, and horses for your children to learn to take care of. If he forgets, they are only plastic, so it doesn't matter.
One of the best parts is that the entire item is folded inside with the animal and Farmer Jed so that you can store it and put it away.
19. 100-Piece Orbrium Toys Triple-Loop Wooden Train Set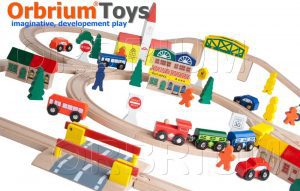 Little boys love trains, and the 100-piece Orbrium toy three-circle wooden train set is an ideal starter kit for your little ones. The price of a set of 100 toys is very reasonable. There are not only railroad tracks, but also buildings, street signs, trees, and trains. In fact, this is everything you need to set up for a while and have a lot of fun.
Your boy's imagination will go crazy and create an entire town with a train station at every station. He will spend several hours rearranging the tracks and bypassing the train on the tracks.
20. The Learning Journey Remote Control ABC Dancing Dino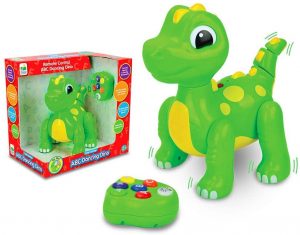 The remote control dino dances walk, talks, and sings, which will please your child and all his friends. He provides multiple modes from the remote control so that your child can control the dinosaur. A good toy for your son to interact with him, and help him for exercise. Many toys do not encourage a lot of exercises, but dancing dino will!
21. Skoolzy Peg Board Set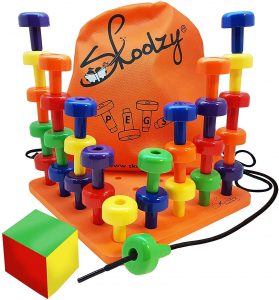 Skoolzy pegboard kit is an excellent learning toy for young children, but don't let them play with this toy without supervision. Two-year-olds still tend to put something in their mouths, these nails look delicious!
The hanging nails are equipped with storage bags, cushions, and a large number of colorful hanging nails, which can help your son, enhance hand-eye coordination, classification, stacking, color recognition, and patterns. A great Montessori toy child will play repeatedly.
22. 3 Bees & Me Bath Toys for Boys and Girls – Magnet Boat Set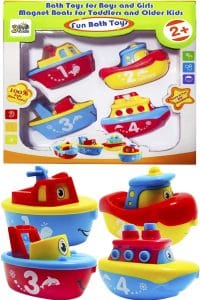 With 3 Bees&Me bath toy magnet boat set, your son can sail the seven seas from the bathtub. Each small tugboat has marine life numbers and pictures, and the boats have bright primary colors. Your boy can travel around the world and will enjoy bathing time for a long time and bring some small toys to encourage play.
Very suitable for brothers and sisters to play in the bathtub, they can race on the water! These boats can also go to the swimming pool or lake to play. They can build moats or lakes for boats on the beach. The options are endless!
23. VTech Spin and Learn Color Flashlight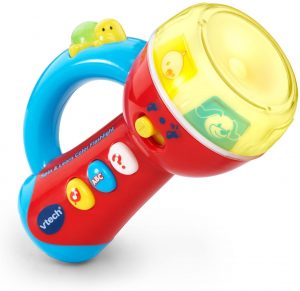 VTech's rotating and learning colorful flashlights add luster to your children's day. Your boy will love singing and color-changing lights that make animal sounds. Boys like to press buttons and make a lot of noises, this flashlight is ready for business!
Please note that due to the bright light, do not flash the light into the eyes of a dog, cat or his siblings! Although it is not the educational toy, the flashlight is also an excellent musical toy and portable toy. Very suitable for car or travel.
24. VTech Go! Go! Smart Wheels Spinning Spiral Tower Playset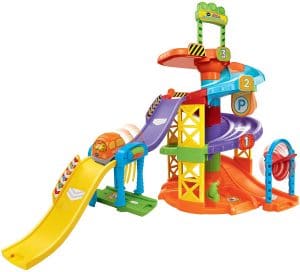 Many car toys are made for two-year-old boys like VTech Go! Go! Smart Wheels Spinning Spiral Tower Playset, because the little guy is fascinated by the spinning wheels and moving cars. This colorful toy allows them to watch the car spin on the ramp and fly through the room.
When they find other things like marbles, building blocks and unsuspecting hamsters, please use this toy to make their senses happy (please keep the cage away from the toy).
25. ZOKEA Night Lights for Kids Dinosaur 3D Night Light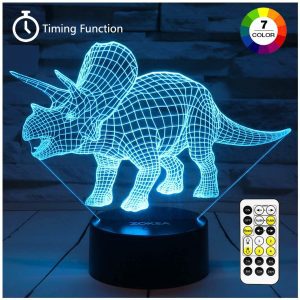 Boys tend to be addicted to prehistoric animals, and with the help of ZOKEA Children's Dinosaur Night Light 3D Night Light, they can make dinosaurs fall asleep in seven bright colors. Children will show this 3D visual effect night light to all relatives and friends!
Children like interesting lights, but not all children can use constellation lights to fall asleep, which eventually distracts them from falling asleep. This light is simple and distracting, while full of fun and color.
26. P is for Potty! (Sesame Street) (Lift-the-Flap)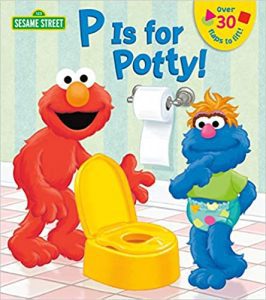 At the age of two, some young boys are ready for potty training, and a better way to write this board manual P with Elmo is to go to the toilet! (Sesame Street)? Potty can be scary for children who always go to the bathroom with diapers. This book eliminates the scary factor and shows how interesting potty is, which a normal part of daily work is.
27. Yisibo Kid Toddler Dinosaur Backpack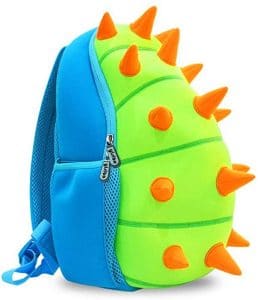 Your older boy can carry all his favorite toys in this yisibo Kid Toddler Dinosaur backpack. It has a variety of designs that can imitate 3D animals and make your kids happy.
The small school bag is suitable for children, with a spacious main compartment, which can store toys and books, and is a suitable size for children. It can be used as a diaper bag or taken into a nursery or preschool.
28. The Wonderful Things You Will Be Hardcover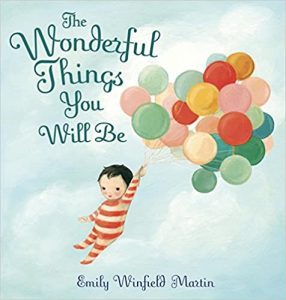 The book "Wonderful Things You Will Hardcover" will delight both parents and children. Normally, children's books are annoying to read, but this book is full of praise for its theme and whimsical pictures.
This book shows young children how much parents love their children. Although this topic may disappear from parents' ears, parents will love this short story. Young children will love the sweet pictures and natural rhythms that these words bring.
29. Step2 Naturally Playful Big Folding Slide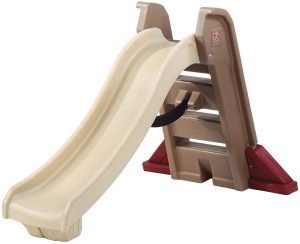 This fun little slide can take the outdoors to the game room on rainy days. Step2 the natural and lively large folding slide can fold for easy storage or indoor or outdoor storage. It is very suitable for multiple children to learn to turn, even let your little boy turn with his stuffed toy, or make his toy car and another ramp of the train turn.
30. Disney Mickey's Toddler Rolled Nap Mat, Flight Academy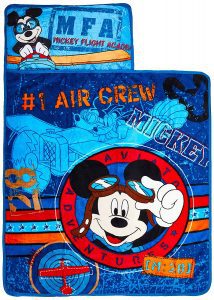 Disney's Mickey toddler nap mat Foot Academy is the ideal blanket and pillow combination for two-year-old boys. Most young children like Mickey and will like this soft blanket with aviation theme.
Although this blanket is not very thick, it can be carried in your son's backpack or you can carry yourself. It is very suitable for daycare, preschool, overnight travel or at the end of family or friends.
31. Noah´s Ark
As expected, you will get two of each animal (including giraffe and zebra) in this Noah's Ark game. Children can use their imagination to act out any story. When the game time is over, they are all neatly placed in the boat. PS: The Ark can float on the water! This one is suitable for children over 18 months.
32. Tool Set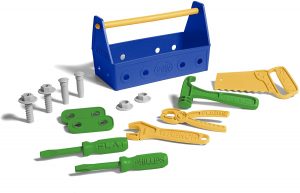 This 15-piece set is perfect for your little builder. It is equipped with a screwdriver, hammer, saw, wrench, pliers, etc., so they can imagine the largest project. The kit is also made of 100% recycled plastic to reduce the overall environmental impact, and it is safe to use the dishwasher when the tools get dirty.
33. Spike the Fine Motor Hedgehog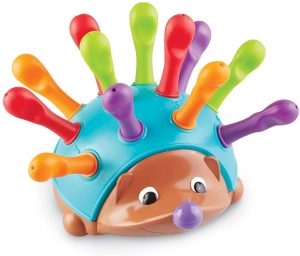 This cute little girl won the 2018 Good Butler Society Toy Award because 12 nails are easy to grab by little hands. Parents will love how each item is neatly stored inside the hedgehog, making it easy to store (and transport on the go).
34. Storytime Buddy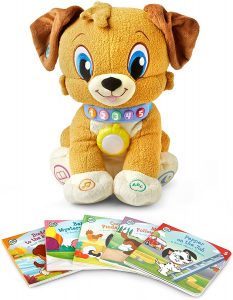 This cute puppy is more than just a fuzzy friend is. When your child presses one of the buttons on the collar, he will read one of five different stories about his puppy friend. The buttons on his feet can also perform interactive operations, such as exploring ABC or playing music.
35. Ambulance & Doctor's Kit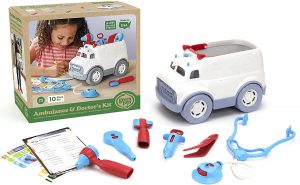 Your 2-year-old boy and girl will prepare for the next examination after several exercises with this doctor's kit, which includes a stethoscope, reflex hammer, syringe, tweezers, thermometer, otoscope, etc.
After the game time is over, the suit can be thrown into the dishwasher for easy cleaning, and then stored in the ambulance. Besides, it claims to be made of 100% recycled plastic.
How to Choose Gift and Toys for Your 2 Years Old Boys
The two-year-old is absorbing the world around him. They have learned a lot since their first birthday, but there is still a long way to go. We will select the best toys for 2-year-olds based on the milestones your child has reached this year and interesting factors. These are some milestones; you might expect your little boy to achieve.
Physical Achievement
As you exercise your muscles, your chubby leg cherub becomes slimmer and slender. In his second year of study, he will start climbing, kicking, climbing furniture, and running farther. He may even run very far, making you exhausted! As he learns to scribble, stack, paint, and even place small objects in inappropriate spaces, his fine motor skills will also improve.
Emotional involvement
At the age of two, your little boy may start to lose his temper, which is part of the "horrible two people". Tantrums are his way of expressing feelings of hunger, tiredness, or dislike of rules for any assumption. Their verbal ability is still not comparable to that of adults, but he can indeed control his body.
The two-year-old is full of emotions, from sadness to anger, and everything else in between. As he learns to suppress his impulses, feelings, and behaviors, his emotions change frequently. Depending on the child, this process can take eighteen years or more.
From your son's meager point of view, the world still revolves around him because he has only just begun to understand the needs, desires, and emotions of others.
Despite the frightening emotional changes, the two received some good news, such as that they can dress. He may not be ready to share with other children, but he is ready to start learning the social norms of sharing. Either way, he will enjoy a fulfilling social life with many people around him.
Conclusion
When your little one focuses on language, movement, and fine motor skills, most toys focus on the development of these three areas. Most young children like to watch objects move, such as cars, or like moving objects, which is why many toys have wheels. Books are very important to help them learn vocabulary and grow for your 2 years old.
Talk to your baby often and read often, because reading is a good time and the best way to develop language skills. Try not to talk about the baby talk because they imitate two children and learn what you taught them.
If you are talking about the baby talk, they will be talking about the baby talk, which is another habit to break the habit in the future. Talk about what you are doing when you are doing it to help him understand why and how his world is.
Try to choose toys that are both instructive and interesting, such as the toys above. These toys attract not only his abilities and learning but also his desire for fun and imagination.
The simpler the toy, the more he can use his imagination. Make sure not all his toys are noisy toys. Try to keep all kinds of toys and gifts for your 2 years old to stimulate new skills.