Babies explore creativity during, play, toddlers love building blocks. For years, the building blocks for toddlers have been inspired toys that are fun to use. Unlike all other toys, Building Block for Babies is also very durable which means they can withstand the high energy toddlers have. Being played with by both boys and girls, these building blocks can inspire a generation.
But the best part is toddlers can play with building blocks anywhere and even take building blocks with them while away from home. The following building blocks are specifically made for them as they are safe and easy to use.
Baby Building blocks may seem like simple toys, but they are both educational and entertaining for babies and even older children.  Most of the time Toddlers get bored with the same toys, but building blocks seem to have countless playing possibilities for fun.
Top 30 Best Building Blocks For Toddlers in 2023.
You can get detailed reviews 30 Best Building Blocks for Toddlers in 2023 and give a chance to your babies to play with blocks and make fun learn new things.
#1 First Builders Big Building Bag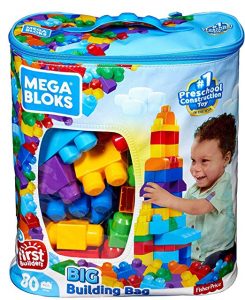 Why we like it: These Building blocks for babies are a little big in size and perfectly suitable for little hands. They consist of 80 pieces, this set is a popular choice for toddlers.
Including blocks of various sizes and colors, it has everything it needs for the best results. In early child development, such blocks teach crucial skills, including the mechanics of how to handle objects at various angles.
One of the simplest and most effective benefits of building blocks is that they allow kids to build and rebuild as much as possible. Every play opportunity becomes different as an outcome. Kids can imagine their constructions and they can start from scratch with every attempt. At the same time, all of the blocks can be stored in the see-through bag when playtime is over.
#2 Melissa & Doug Deluxe Jumbo Cardboard Blocks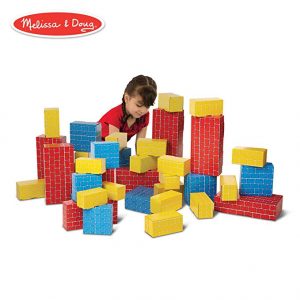 Why we like it: The large cardboard educational building blocks can be used to build walls, forts, home or stages toddlers can sit on.
Made from strong and supportive cardboard, these building blocks are large and fun to play with. Furthermore, they support weights of up to 150lbs which makes them highly desirable for kids of various ages, especially toddlers.
Since toddlers love to crawl and since they might be learning how to stand properly, these cardboard blocks can also act as chairs when they want to take a break.
These 40 building blocks in a typical set and they come in various colors. Toddlers and kids can simply use them on their own or even create a combined space with a blanket for a fort or unique tent. The size of the blocks can also make them easier to handle for toddlers.
#3 B. Toys – One Two Squeeze Baby Blocks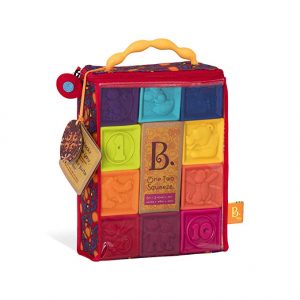 Why we like it: The set of 10 building blocks comes with strong premium quality & feel and the details of their design are impressive.
Made with 10 soft texture blocks, this set is among the most interesting of its class. It doesn't feature the most block but toddlers unable to stand on their own don't need more of them.
However, their squishy design backed by detailed 3D symbols makes then a sculpted work of art.
Apart from stacking them on top of each other, toddlers can also take the opportunity to learn a few things about numbers, shapes, symbols, and animals. Each side of a block features such carvings and they all tell a different story. A recycled storage bag is included as well.
#4 Melissa & Doug Wooden Building Blocks Set – 100 blocks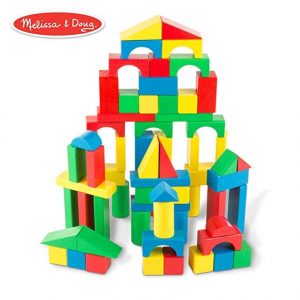 Why we like it: These wooden shapes are created towards buildings, castles and other structures like hut and small house toddlers can relate to.
There are 9 different types of blocks included in this 100-piece set. They are made from woo which means their durability is guaranteed.
Colored differently, each type of these building blocks can be used to create different structures. Judging by the roof blocks, the set is an inspired choice for homes, tower blocks or castles.
Toddlers can enjoy this set for years. As they start to master them, they can also slowly move towards the 200-block version of the set or simply pair them with another 100-piece set to create more complex structures. However, it will take time for them to master the art of using these building blocks, stacking and knocking them over along the way.
#5 Battat Bristle Blocks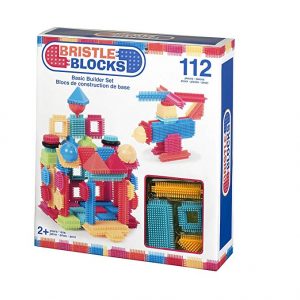 Why we like it: The set is different and unique as its building blocks stick together from any angle by interlocking.
There are 112 pieces in this innovative set. Made in different colors, they can be used to create distinct shapes, vehicles, and buildings. Since they interlock from any angle, the options are truly endless.
Toddlers creating their vehicles can rely on this simple set with its included wheels to have a bit more fun without any other cars.
Since the building blocks are so versatile, they can be used together with the Battat Spinaroo or the Battat Bristle blocks. All of them can be part of the ultimate building toy collection that toddlers can use for years and make the most of imaginative play.
#6 SainSmart Jr. Wooden ABC Blocks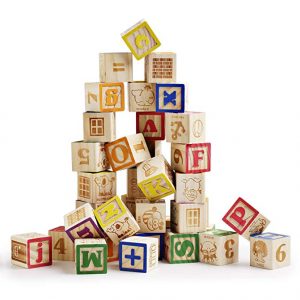 Why we like it: Featuring symbols, letters, and numbers, the building blocks are ready to teach toddlers as well as to offer them a fun method of playing.
Learning with building blocks is something many toddlers love today. With the help of their parents, they can start learning various letters and numbers from 0 to 9.
Apart from these benefits, the added figures on the building blocks make them desirable even when it comes to naming various objects or animals.
Made from all-natural wood, these building blocks are very durable. With a smooth finish, they can easily represent great display items in a kid's bedroom. With an included storage bag, they can also be put away while not in use.
#7 Melissa & Doug Building Blocks with Wooden Storage Crate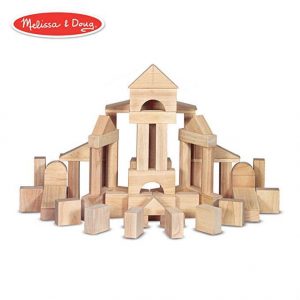 Why we like it: The set is one of the manufacturer's solutions for those who only want pieces with a natural solid wood look.
Without any colors, the set represents one of the fun solutions for kids to play with. Its natural wooden look which characterizes the wooden pieces is highly suitable for an aesthetic home or castle. Both boys and girls can play with these blocks since they are unisex.
There are 60 pieces in this set and one of the distinct aspects is that it also includes a storage crate. Toddlers can learn to clean up their play area with the crate. But they can also easily carry all of the building blocks around the house with the durable wooden storage crate.
Playing and developing at the same time is what this set has to offer apart from its premium solid wood construction.
#8 Infantino Sensory Press and Stay Sensory Blocks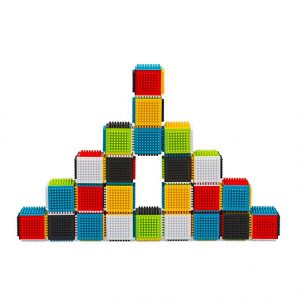 Why we like it:The set includes building blocks which interlock by pressing them together.
24 unique blocks are included in this set. They represent one of the most interesting designs when it comes to proper functionality and creativity. Unlike other blocks which simply rely on gravity to sit on top of each other, these blocks are interlocking as they are pressed together.
Made with different colors, a single building block can be locked to another one from either side. It's worth investing in this solution to allow toddlers to improve their hand-eye coordination as well as their creativity.
With high contrast colors, it's easy for them to understand how they interlock and how to build various structures.
#9 Melissa & Doug Deluxe Wooden ABC/123 Blocks Set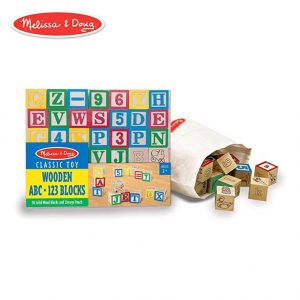 Buy on Amazon
Why we like it: Made for ages 2 to 4, this set includes wooden building blocks with numbers and letters.
Melissa & Doug is one of the few companies which specifically address building blocks for toddlers with various designs. Their ABC/123 block set is one of the popular choices as it ticks a few important boxes, such as materials and learning potential.
Made from wood, these building blocks are easy to use for a long period. Wood also gives them a special appeal, closer to premium toys.
The added numbers and letters on each side of the building block are only going to enrich the playing experience. Kids can learn how to stack the blocks simply by correlating each block according to a letter or a number. There are 50 building blocks in the set and all of them can be played within different ways.
Kids can stack them starting with the lowest number or they can line them up alphabetically. Suitable up to the age of 4, the set can give pre-school kids an advantage as they already know the letters and numbers when they start learning them at kindergarten.
#10 Kids adventure 24pc Jumbo Blocks – Beginner Set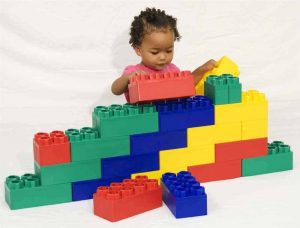 Why we like it: These large building blocks are among the few which can be used both indoors and outdoors.
Representing one of the most important options for indoor and outdoor play versatility, the building set is one of the sturdiest options of its class. It represents a valuable option for kids who want to play with safe blocks with rounded edges. At the same time, their interlocking design means these blocks are very stable.
Unlike a few other options, the building blocks can also be used outside, where they can also be easily cleaned. In total, there are 24 pieces to rely on.
All of them come in different colors and kids can learn a few things about gross motor skills by handling each large block individually. Since these building blocks are so large, they can also be used together with other toys to build dedicated play areas.
#11 Battat – Locbloc Wagon – Building Toy Blocks for Toddlers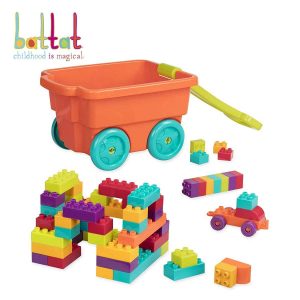 Why we like it: 54 building block pieces are included in this unique wagon-based set.
Toddlers can use colored building blocks anywhere around the house. They can easily transport them from a room to another simply by pulling them with the included wagon.
All of the building blocks are made with solid plastic and they can be stacked on top of each other to create unique childhood experiences while boosting creativity.
While it may be difficult to move around 54 building blocks, the best part is they can be transported with the included wagon. Sitting on large wheels, this wagon glides fast over all types of surfaces.
#12 Lego Duplo My First Bricks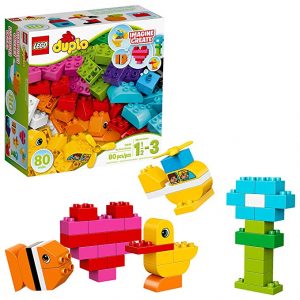 Why we like it: This Lego set has 80 colorful pieces and it fits many other types of products from the manufacturer.
Toddlers love Lego and the Duplo My First Bricks is one suitable set which can kick-start a toddler's creativity in the Lego world.
At some point, all toddlers will find their way towards Lego and this set has just sufficient pieces to make it a good option for building vehicles, boats, animals or buildings.
There are 80 pieces included in this set and they represent one of the best options for good creativity. At the same time, they are very suitable for fine motor skills. Unlike other brands, all Lego pieces are even and toddlers can stack them upon each other without the fear of them tumbling over.
#13 Mega Bloks First Builders Deluxe Building Bag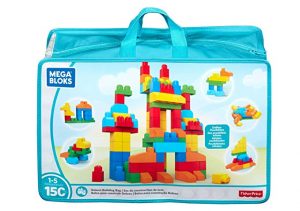 Why we like it: With large blocks, the set is one of the options made for easy use and recommended as a first building block gift.
Not all building blocks are as large as these from Mega Bloks. But the good news is they are very suitable for toddlers. With their small hands, toddlers will have less precision with smaller blocks and this is why the blocks represent such a suitable gift idea.
Many kids also have the opportunity to use the set for complex games and buildings. This is due to the 150 piece count. For most toddlers, this means they can even play with friends without arguing on who gets the most pieces as there's plenty for all.
One of the downsides of these pieces is they don't fit smaller building blocks so those who want more will need to go back to Mega Bloks designs.
#14 Feijoa + Pukeko Building Blocks Set for Preschool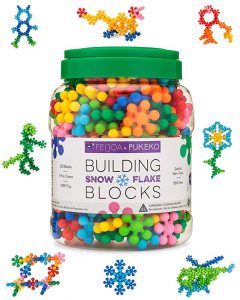 Why we like it: These interlocking building blocks are among the few which won't grow mold and which can be used in the bathroom.
The interesting design of the building blocks allows them to represent one of the most interesting options with an interlocking design. Even based on this system, kids can still create all types of objects, including animals.
There are 250 pieces inside the container and toddlers can play with various colors as they like. However, one of the main benefits of these building blocks is the naturally buoyant character of the materials and this means that if played within the bathtub, they will not grow mold.
With such versatility, the set can be one of the few options which can truly be used at home and on holiday.
#15 Prextex 150 Piece Classic Big Building Blocks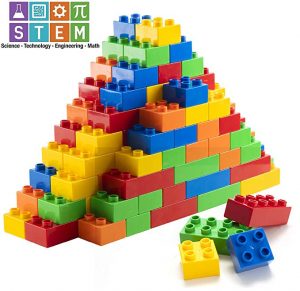 Why we like it: These simple brick-style building blocks are increasingly rare to find and Pretex fans have 150 of them to play with.
This set is one of the much-needed designs for toddlers to play with. Its major advantage is that it fits most major brands' building blocks.
This is why it can be one of the most interesting options for those who might already plan an entire building blocks collection for their toddlers. Furthermore, it is also one of the most powerful sets in terms of freedom of building.
All pieces are the same size and the entire creative freedom is unrestricted and up to the children to decide. In many cases, this is also one of the best sets to start playing with building blocks.
Another advantage of the set is its affordability. Practically, kids can always upgrade their set with a second set of building blocks to build castles, forts and all types of complex constructions.
#16 Milliard Soft Foam Blocks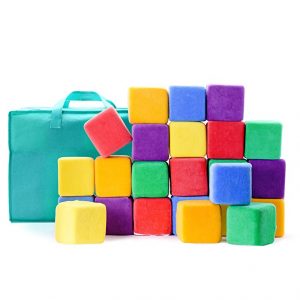 Why we like it: With soft construction, the foam blocks have a funs stackable design, suitable for daycares and home use.
These building blocks are made from soft foam. This might be the reason why they represent such a great choice for so many toddlers. Those playing with friends can consider the set as it can't hurt anyone with the soft foam construction.
There are 24 blocks of different colors included in the set. All of them are kept nicely in a soft carry case. But kids can use them to learn counting, colors or to simply play at home.
When they start to get too dirty, parents can machine wash the zipped covers to make them fresh and clean again. Mainly suitable for toddlers, the building blocks have a height of 4 inches.
#17 ECR4Kids SoftZone Patchwork Toddler Block Playset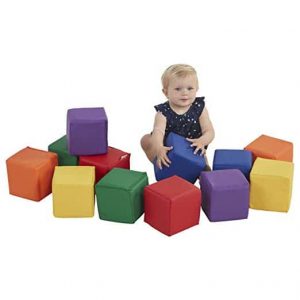 Buy on Amazon
Why we like it: This set is made from soft polyurethane pieces and is safe for kids 6 months and up to play with.
The soft foam cubes of the set are safe for kids of all ages. They are larger than many expect and this is why they are also easier to handle with small hands.
Made from polyurethane, they are also lightweight. Toddlers can move them from one play area to another freely. At the same time, they can also do their best when it comes to proper freedom of creativity as they can even tumble safely on their feet without too many worries.
There are 12 pieces included in the set. All of them feature different colors. However, EC4Kids also has a few other color variations to choose from. As a result, parents can match the colors of the block playset with the dominant colors in the child's bedroom
#18 Dimple 150 Piece Soft Plastic Building Block Set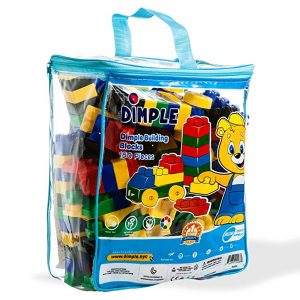 Why we like it: With a few wheel pieces, this set is mainly recommended for building vehicles.
Toddlers can enjoy building their vehicles and they can create one from scratch using the Dimple design. Of course, the vehicles are going to be simple but they can vary from cars to trains or even cranes.
There are 150 building blocks included in this set and toddlers can enjoy all of them to the fullest with their lightweight.
In some cases, the vehicles might also work well on tracks. Toddlers who already own different type of racing tracks can create new vehicles from the building blocks for the ultimate racing experience. As for their compatibility, they are now truly made to fit other brands' building blocks as they are made to be used within this range from the manufacturer.
#19 FAO Schwarz Wooden Castle Building Blocks Set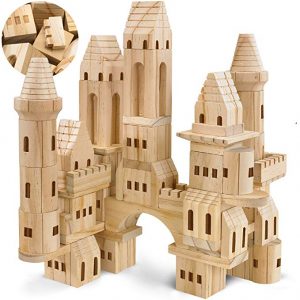 Why we like it: Inspired by medieval castles, this building blocks set is entirely based on wooden elements.
Made to inspire toddlers and remind them of their favorite fairytales, this building set is one of the unique chances of actually building something which looks like a castle in the Alps. Various towers and foundation pieces are made available and they represent the base of the 150-piece set.
Even if it seems that the building blocks are an actual single castle separated into tiny pieces, they can be put together for building a new castle every day.
At the same time, this is one of the suitable opportunities for toddlers to spend some time with their parents to understand how actual castles were built. The wooden quality of the pieces is constant and they are all even, unlike a few other wooden building block sets.
#20 Michley Interlocking Builders Blocks Play Set for Child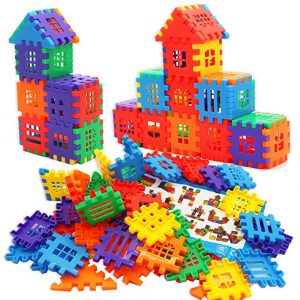 Why we like it: The square interlocking blocks are recommended for 3D structures such as homes.
Toddlers can use these unique interlocking building blocks to create entire buildings. 6 interlocking pieces create a cube but there's plenty of them inside the pack. 100 pieces are normally including in the pack, even if a larger 150-piece set is available as well.
The abundance of square blocks and triangular blocks means this is one of the solutions most suitable for building homes. However, many other buildings can be constructed with a bit of help from adults.
The taller the construction, the harder it is for the toddler to interlock new pieces together. This is why this set will put their gross motor skills to a test.
These pieces are made from ABS plastic. Even if the pieces have to interlock, they are still very durable and there's a bit of flexibility to them. Braking these pieces might be impossible for a toddler with bare hands.
#21 Gemem Shape Sorter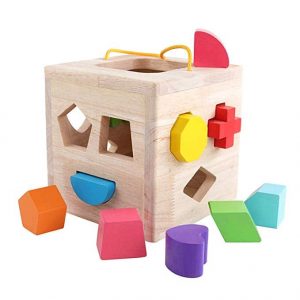 Why we like it: Toddlers unable to build anything on their own can start matching building blocks to the shapes of this sorting cube.
Buying building blocks is easy. However, most parents know that their toddlers still need guidance at times. It is why they can start playing with this Shape Sorter game which lays down the foundation for proper and actual building block fun.
Most toddlers will be able to understand what they need to do. But apart from matching the right building block to the right hole in the sorter cube, they also develop important hand-eye coordination. This then becomes mandatory in the situations where they need to build with building blocks on top of each other.
One of the best parts about the set is that it is entirely made out of wood. There are no chances of anything braking and the set is highly recommended for kids who want to enjoy a top experience which can even start a few giggles. 12 building blocks need to be matched to the cube sorter's holes.
#22 Burgkidz Classic Big Building Blocks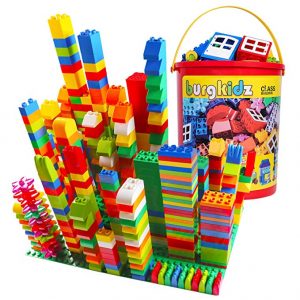 Why we like it: With 214 pieces and an included baseplate and it inspired 2D and 3D creativity.
Made to fit most branded building blocks, the Burgkidz set is one of the best in its class when it comes to overall freedom of creativity. Unlike many other types of building blocks, they can also be put together horizontally, with the help of the building plate.
Most toddlers have the freedom to build up as well, especially if they have the dexterity to handle the small pieces.
Unlike a few other similar sets, it features 214 pieces which mean there are hundreds of possibilities. From superheroes such as Mario to building homes, this set supports all types of fun creative ideas.
Its main benefit is that it encourages creative but structured thinking. 13 shapes are included in the set and they are the base of one of the most versatile building block sets toddlers can carry on using into their childhood years.
#23 B. toys – aBc Block Party Baby Blocks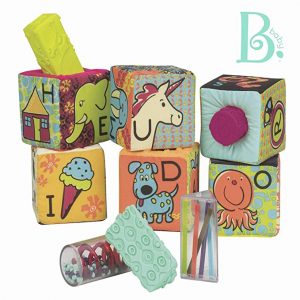 Why we like it: These soft stackable baby blocks also come with plastic inserts to improve cognition.
There are 6 toddler-friendly building blocks included in this set. They represent one of the most suitable options in the early days of playing, where safety is important. Their soft profile recommends them above many other similar options in this class.
Apart from their squishy appeal, they also represent one of the best options for those seeking imaginative learning while playing. All of the blocks come with various animal prints but they also represent an interesting solution for those who might already be curious about letters.
The interesting part is that they do not include the entire alphabet. The building blocks are made with a single letter, which is found at the beginning of the corresponding printed character. For example, where toddlers see a dog, they will also see the letter D.
Apart from stacking the building blocks, toddlers can also insert plastic toys in them. The rectangular, round and triangular plastic toys are included in the set and they can be used to improve creative thinking.
#24 Loobani 100 Pcs Kids Toddlers Building Blocks Wooden Toys Set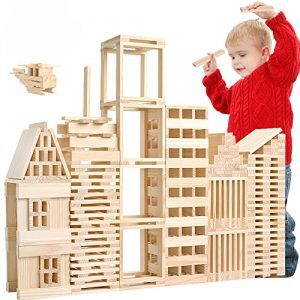 Why we like it: This incredible old-school style building blocks set only includes rectangular shapes.
There are a few toddlers which don't like any other shapes apart from the rectangular ones. It is because they are the most versatile and they can build floor after floor without sacrificing stability. This set only includes wooden pieces which means they look great and which are also durable.
At its core, this set can be the base of mathematical experience. Toddlers get to plan and strategize just how many wooden pieces are needed to build certain objects. Angles are important as well, even if most of them are 90-degree angles due to the rectangular shape of the building blocks.
#25 Magz Wooden Bricks 45 Magnetic Building Blocks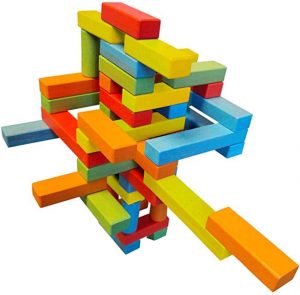 Why we like it: The set is based on wooden building blocks with include magnets for the craziest structures.
Kids can be amazed by this incredible set which looks like any other wooden building blocks set. However, its pieces are made with magnets. With such materials, it is easy to build some of the craziest designs.
For example, it would be impossible to build a tall structure with a wider top and a narrow base without magnets. This is truly possible with the Magz set.
With 45 pieces, the set is impressive for many toddlers, it's just a shame there are no versions with more building blocks to choose from.
#26 Burgkidz Large Building Blocks – 135 Pieces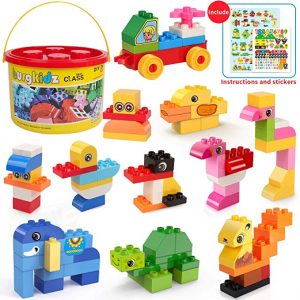 Why we like it: This is the set that comes with the most building blocks shapes to boost creative efforts.
As one of the most interesting building blocks for toddlers, the set represents a suitable option for detailed constructions. With rectangular, square, angled, and even flower pieces, this is one of the most interesting options for kids to consider when it comes to picture-perfect constructions.
One of the benefits of these varied shapes is that they can serve in the building of various animal figurines.
#27 CR4Kids SoftZone Climb and Crawl Activity Play Set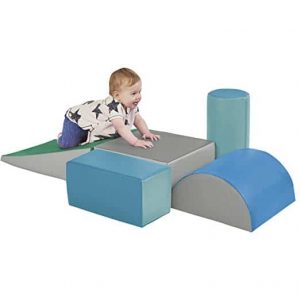 Why we like it: Toddlers up to the age of 1 might find this climbable building block set the only option to play with.
Some toddlers might still not have the coordination to build their toys. The EC4Kids introduces them to the world of stacking, sorting and building with this climbable set.
Made from soft materials, this set shows kids the importance of angles and on how various shapes can come together. It is a type of pre-building blocks set solution for kids to play with.
#28 Galt Toys Soft Blocks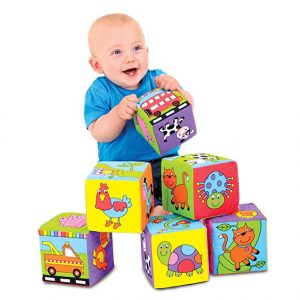 Why we like it: The squeezable building blocks can be stacked or thrown for harmless fun play.
6 building blocks are included in this unique set. Toddlers can get accustomed to these types of building blocks by first using soft materials' designs.
All of the building blocks come with friendly prints. Toddlers can learn about chickens, cows, cats, turtles or various vehicles based on these friendly cartoon-inspired prints. They can also safely throw them around as they are machine washable.
#29 Teytoy Children Building Blocks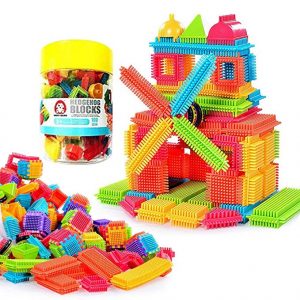 Why we like it: The interchangeable building blocks can build planes, cars, furniture or animals.
There are various building block shapes included in the Teytoy set. Toddlers can use them to create various toys and figurines. Square, rectangular and rounded shapes can be used to build planes and vehicles.
Rectangular shapes can be used to build miniature furniture, especially since the interlocking design of the pieces allows for a very specific fit, with all of the pieces being held closely together.