The Japanese language can be written in kanji, hiragana, and katakana. Kanji represent words or syllables, while hiragana and katakana are used for foreign words and syllables. As one name can have different kanji, providing multiple options for meanings is crucial.
This is especially important when it comes to Japanese girl names, where several kanji may have the same sound. Our list of Japanese girl names provides various options and definitions to help parents choose the perfect name for their daughter.
100 Japanese Girl Names and Meanings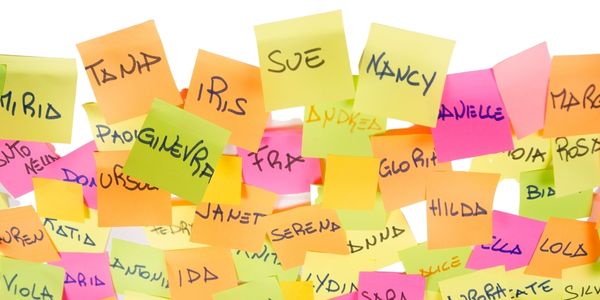 Whether you're looking for unusual female Japanese names or a more common one, there should be something you'll find intriguing on this list.
1. Ai
The Japanese girls' name Ai can mean 愛 love, affection, or 藍 indigo.
When written Ái, this is a masculine name from Norse mythology, meaning great-grandfather or ancestor. We think this makes Ai an excellent choice for a family with a mix of Japanese and Norse heritage.
2. Aiko
Aiko means love, affection, and child.
Aiko was a trendy Japanese girls' name at the beginning of the 20th century. It first entered the list of top 10 girls' names in Japan in 1917, peaking at number four in 1924 and falling out of the top ten once more in 1932.
3. Aimi
The most commonly combined kanji for Aimi mean love, affection, and beauty.
Aimi is also an Estonian variation of Aime and an occasionally used English variant spelling of Amy, which both mean beloved, which neatly ties all three names together.
4. Aina
Aina once again uses the kanji for love and affection but this time combines it with 菜, meaning vegetables, greens.
The unique combination of meanings for the most common kanji variations for Aina makes this a possible shoo-in for a cool Japanese girls' name with an earthy or nature vibe.
5. Airi
Airi combines love and affection with the kanji for pear.
The multi-talented Airi Suzuki is a Japanese model, actress, recording artist, and radio host who graduated from Keio University with a degree in Environmental Studies.
6. Akane
Akane is the Japanese word for deep red.
Akane is a game released in 2018 by Lucas Studios. Available on Steam, it is a basic but highly addictive and entertaining arena slasher game. The object is to take out as many yakuza as possible before you bite the dust.
7. Akari
Akari means bright or vermillion red combined with village or white jasmine.
ASTRO-F, otherwise known as Akari, is a multinational satellite developed through a partnership between Japan, Europe, and Korea. Its mission is to map the sky in near, mid, and far-infrared.
8. Akemi
The Japanese name Akemi means bright and beautiful.
Akemi is a gender-neutral name, and as is a tradition in Japan, the kanji used for the girls' and boys' versions are different. While multiple combinations are possible, the most common for a girl named Akemi is 明美, meaning bright beauty.
9. Aki
Aki means autumn, fall or clear, crystal.
Aki is also a Serbian short form of Alexander, a Norse boys' name meaning ancestor or father, and a Finnish shortening of Jehoiakim, which means raised by god.
10. Akiko
Akiko is Aki combined with ko, which means child.
By using the kanji 秋子, Akiko can mean autumn child, which makes it an ideal name for a girl born in the fall.
11. Akira
Akira means clear.
Akira is a gender-neutral name and has, rather unusually, made it to the top 1,000 names in the U.S. From 2006 and 2012, there were between 270 and 424 girls given the name in the U.S. each year.
12. Ami
The Japanese girls' name Ami means second, Asia, beautiful.
The Ami fashion label was founded in 2011 by Alexandre Mattiussi, who had previously worked for Christian Dior, Givenchy, and Marc Jacobs. The company name is French for friend.
13. Aoi
Aoi is the Japanese word for blue.
In 2020, the ninth most popular name for newborn girls was Aoi, down one place from the year before. Aoi, with the kanji 葵, was the eighth most popular girls' name that year.
14. Asami
Asami means hemp, beauty.
Asami can be either a forename or a surname. As a forename, it is most often written as 麻美, while when it is used as a surname it is most often written 浅海 and shallow sea.
15. Asuka
Asuka means to fly, bird.
Professional wrestler Kanako Urai performs under the name Asuka. Born in Osaka, she wrestled under several ring names but adopted Asuka when she signed with the WWE in 2015.
16. Atsuko
Atsuko combines warm, honest, or sincere with child.
Named to a list of 20 Rising Women Directors You Need to Know, Japanese American film-maker Atsuko Hirayanagi's short film, Oh Lucy!, won over 25 international awards, and Hirayanagi went on to make an award-winning feature-length version.
17. Aya
Aya means color, design.
The name Aya is found on top 100 lists around the world. However, that may be because Aya is also a girls' name of Arabic origin and an alternative transcription of آية, or Ayah.
18. Ayaka
The Japanese girls' name Ayaka means color, flower.
Singer, songwriter, and record producer Ayaka performed for an MTV Unplugged special shortly before her retirement due to Graves Disease. However, two years later, she felt well enough to resume her career.
19. Ayako
Ayako is made by combining the kanji for Aya meaning color, design, and Ko meaning child.
Another kanji that represents the sound aya is 絢, which has the meaning brilliant fabric design, kimono design. Therefore, this name can mean brilliant fabric design, kimono design child.
20. Ayame
Ayame means iris.
Iris sanguinea is a species of iris native to Japan. The unbranched stem grows up to 90 centimeters tall and produces between one and three flowers. The flowers range from purple, purple-red, and violet to a rare white shade.
21. Ayane
The literal translation of Ayane is a colorful sound.
Ayane is a character in the Dead or Alive and Ninja Gaiden video games series. One of Temco's most popular characters, Ayane, is also one of the mascots for Koei Tecmo.
22. Chiaki
Chiaki means a thousand autumns.
In 1994, cardiovascular surgeon Chiaki Mukai became the first Japanese woman to go into space. After completing a second mission in 1998, Mukai became the first Japanese person to go into space twice.
23. Chie
Chi is often made by pairing 千 or Chi, which means thousand, with a kanji of the sound e.
Chie is a popular name for those wanting to bestow good fortune on their daughter. This is because of the possible kanji combinations such as 千恵 meaning thousand blessings, 千栄 meaning thousand prosperous, 智栄 meaning wisdom prosperous, and 千映 meaning thousand shine.
24. Chihiro
Chihiro means thousand, search, seek.
Spirited Away tells the story of 10-year-old Chihiro Ogino, her family's accidental brush with the supernatural, and her quest to return things to normal (1). An exquisitely told story, Spirited Away is a firm favorite in our home.
25. Chika
The Japanese girls' name Chika means scattered flowers or good wisdom.
American rapper Jane Chika Oranika, known professionally as CHIKA, was nominated for Best New Artist in the 2020 Grammys. A little known random fact is that CHIKA was born the same day Notorious B.I.G. died.
26. Chikako
Chikako is translated as child of a thousand X, with X being the meaning of the other kanji.
After graduating from the University of Hawaii, actress Chikako Fukuyama was cast in Netflix Japan's most popular show. Based in L.A., Fukuyama stars in the soon-to-be-released movie Bond of Justice: Kizuna.
27. Chinatsu
Chinatsu means a thousand summers.
With an especially strong following within Japanese feminist and liberal subcultures, Chinatsu Ban is best known for her creations featuring elephants.
28. Chiyo
Chiyo means a thousand worlds or a thousand generations.
Japanese author Chiyo Uno was as famous for what was perceived to be a scandalous love-life as she was for her work. Her hugely successful novel Confessions of Love was published in 1932.
29. Chiyoko
Chiyoko has the same meaning as Chiyo but with KO, meaning child, at the end.
Chiyoko was the common name used for the business Chiyoda Kogaku Seiko Kabushiki Kaisha, meaning Chiyoda Optics and Precision Industry Co., Ltd. This company manufactured Minolta brand cameras, and the company name was changed to Minolta in 1962.
30. Chō
Chō means butterfly.
Voice actor Shigeru Nagashima adopted the stage name Chō in 2006. Famous for his work in animation, live-action, video games, and narration, he has also dubbed movies as disparate as Lord of the Rings, Scooby-Doo, and Ali.
31. Ema
Ema means favor, benefit, and flax.
Ema are wooden plaques, often in the shape of a horse, on which worshippers at Shinto and Buddhist shrines write prayers. This evolved from the ancient practice of donating horses to the shrines to curry good favor with gods and spirits.
32. Emi
One popular form of Emi is 絵美, meaning beautiful painting.
EMI, short for Electric and Musical Industries, was the world's fourth-largest recording label conglomerate with labels such as Virgin Records and Capitol Records. It is now owned by the music publishing division of Sony Music — Sony/ATV Music Publishing.
33. Etsuko
Etsuko means child of joy.
A different variant of this name, Atsuko, can also be used. Former fashion designer Atsuko Yamano is a founding member of Shonen Knife, a Japanese alternative rock trio. Nirvana's Kurt Cobain invited Shonen Knife to tour with them, and Dave Grohl helped Yamano with her drum set up (2).
34. Fusae
One kanji combination for Fusae means house of blessing or kindness.
Fusae Ichikawa was the co-founder of the New Women's Association and was central to the women's suffrage movement in Japan. As a result, legislation was passed in 1945, giving women over 20 the right to vote.
35. Fuyuko
The Japanese girls' name Fuyuko means winter child.
With this distinctly seasonal meaning, we think Fuyuko is a beautiful and unique choice for a girl born during the winter.
36. Hana
As a Japanese name, Hana usually means flower.
Hana is also an English language alternative transcription of Hannah, which means grace. As an Arab name, it means satisfaction and happiness, and in Kurdish hope. In Maori, Hana means radiance, to extol love, and in Hawaiian work or craft.
37. Hanae
Hanae means flower with picture, favor, or benefits.
In the 1990s, Hanae became a popular girls' name in France. Since 2009, when 341 were named Hanae, the alternative spelling of Hanaé has taken over. In 2015, 128 girls were named Hanae, and 255 were named Hanaé.
38. Hanako
Hanako means flower child.
Hanako-san is an urban legend about a girl who dies in a school bathroom and haunts the facilities. Children dare each other to go to the third stall in the girls' bathrooms, knock three times and ask if Hanako-san is there.
39. Haru
The gender-neutral name Haru means springtime, sunlight, or clear, sunny.
Haru is a good choice for a child born in springtime or on a clear, sunny day. It also works as a name for a child who has brought a ray of sunlight into your life.
40. Haruka
Haruka can mean spring flower, spring fragrance, or distant, remote.
Olympic gold medalist Haruka Tachimoto is a 5th dan Judoka. Judoka is written 柔道家 and comprised of 柔道, meaning judo with 家 or ka, meaning a person with expertise.
41. Haruko
The most common meaning for Haruko is spring child.
Haruko Momoi is a successful singer, songwriter, and voice actress. Momoi is also the producer of Junjō no Afilia, an all-female group whose members all work in Japanese maid cafes run by the Alfifa Group.
42. Hibiki
Hibiki means sound, echo.
Hibiki's Magic is a manga series in which the title character, Hibiki, is a wizard's apprentice. Generally unskilled in magic, despite her teacher's encouragement, Hibiki ends up with an unwanted professor position at a prestigious magic academy.
43. Hikari
Hikari means light.
The kanji for Hikari is 光, which is also found in Sino-Vietnamese where it has the same meaning but is pronounced Quang. In addition, 光 can also be pronounced in Japanese as Hikaru, but Hikaru can also be formed with 輝 meaning brightness.
44. Himiko
The Japanese girls' name Himiko means sun child.
Queen Himiko, who reigned between 189 AD and 248 AD, is thought to have been Japan's first ruler. Himiko was chosen by the people of the country who were fed up with the chaos that had plagued the islands for 70 years.
45. Hina
Hina means light, sun, or day combined with vegetables, greens.
In 2003, Hina, with the kanji 陽菜 meaning light, sun and vegetables, greens, was the number one girls' name in Japan. However, although it was also number one in 2005, 2006, 2009, 2011, and 2015, Nina dropped out of the charts.
46. Hinata
Hinata can mean sunny place or toward the sun.
Hinata is an excellent example of the complexity of written Japanese. While 陽向 reads as Hinata and means towards the sun, and 日向 also reads Hinata meaning sunny place, 向日葵 says Himawari but can be read as Hinata, meaning sunflower.
47. Hiroko
Hiroko means tolerant, generous, abundant, or prosperous, plus child.
Japanese children's manga, anime, and games series, Hamtaro, features Hiroko Haruna, a 10-year-old girl who owns Hamtaro. A curious hamster, Hamarato goes on adventures with his hamster friends, The Ham-Hams.
48. Hitomi
Hitomi means pupil of the eye but can also mean beautiful history.
Hitomi is the final album of guitarist and songwriter John Fahey. Released in 2000, Hitomi featured the track Hitomi Sings, which was an unreleased track from the sessions for his album, Old Girlfriends and Other Horrible Memories.
49. Homare
The name Homare means victory, glory, reputation.
Homare Sawa was named FIFA's Women's World Player of the Year in 2011. Her extra-time goal in the World Cup Final with the U.S. made the score 2-2, taking the match to penalties. Japan won, and Sawa became a national hero.
50. Honoka
Honoka means harmony flower.
When 和 is used to write the hono element of Honoka, the meaning of harmony is obtained using what's called a Nanori reading. Nanori readings are increasingly old-fashioned, and consequently, Honoka is usually written with Hiragana as ほのか.
51. Hoshi
Hoshi means star.
In the hot spring resort Awazu Onsen, there is a ryokan, a traditional Japanese inn, by the name of Hōshi Ryokan. Founded in 718, since when it's been in continuous operation, it has been run by the same family for 46 generations.
52. Hoshiko
Hoshiko means star child.
Hoshiko Yamane is a Japanese-born composer and violinist who is currently a member of the German electronic music band Tangerine Dream.
53. Hotaru
The Japanese girls' name Hotaru means firefly.
Hotaru Tomoe is a character in the anime franchise Sailor Moon. Throughout the various series and movies, Hotaru takes on a range of forms, bodies, powers, and aliases.
54. Ichiyo
The literal translation of Ichiyo is location.
Ichiyo Higuchi was the pen name of Natsuko Higuchi, lauded as the first female Japanese writer of the modern era and currently featured on the 50,000 yen note. Higuchi's works focused on the hardships experienced by the poor, especially poor women.
55. Izumi
Izumi means fountain, spring.
While technically a gender-neutral name, Izumi is used significantly more often for girls than for boys. In the U.S. in 2014, no boys were given this name and 14 girls were.
56. Jakuchō
The meaning of Jakuchō is silent, lonely listening.
Jakuchō Setouchi won multiple literary awards for her novels and translations. She accomplished this despite being labeled a pornographer by the predominately male literati in Japan because she had an affair and subsequently divorced her husband.
57. Jun
The gender-neutral name Jun means pure, clean, simple, or moisture.
The Chinese gender-neutral name Jun means ruler, king. It can also mean talented, handsome, or army, but these meanings are usually only used for boys.
58. Junko
Junko can mean obedience, pure, or simply combined with child.
Junko is pronounced as either JOON-KO or JOONG-KO, depending on what part of the country you are in. However, use this name for a child in an English-speaking country, and they'll have to listen to their name being pronounced JUNK-O.
59. Kaede
The Japanese gender-neutral name Kaede means maple.
Actress, model, and dancer Kaede Dobashi, known by the mononame Kaede, is a member of Happiness and E-Girls, both Japanese j-pop girl groups.
60. Kanako
Kanako is formed with the kanji for increase or fragrance, vegetables, greens, and child.
Japanese suspense movie The World of Kanako follows a dysfunctional, ex-police officer as he investigates the disappearance of his teenage daughter.
61. Kanna
Kanna is made by the unlikely kanji combination of bookmark and vegetables.
Kanna is also the common name of the South African succulent sceletium tortuosum. Used as a traditional treatment for stress, anxiety, tension, and a depressive mood, kanna causes euphoria but, despite popular belief, isn't hallucinogenic.
62. Kaori
Kaori means fragrance, aroma, or, occasionally, perfume.
Kaori can also be an alternative reading of 香織, in which case it means weaving. In addition, the regular kanji for Kaori, 香, meaning fragrance, can also be read as Kaoru.
63. Karen
The Japanese name Karen, 華蓮 means flower, lotus, water lily.
If you are looking for a girls' name that reflects a mixed parental heritage, Karen is a workable choice. However, you may have to put up with the negative stereotypes currently associated with Karen in English-speaking countries.
64. Kasumi
Kasumi can mean mist or be a combination of flower and pure.
Japanese destroyer Kasumi was one of the ships guarding tanker ships during the Japanese attack on Pearl Harbor. On April 7th, 1945, she came under attack by aircraft of the U.S. Task Force 58 and was subsequently destroyed.
65. Kazue
Kazue means harmony, peace, and favor, benefit.
Kazue Sawai is a professional koto player and composer who is famous for her free improvisation and contemporary classical music. The koto is the national instrument of Japan. A plucked half-tube zither, the most common form, has 13 strings.
66. Kazuko
The definition of Kazuko is usually peace child.
It's unusual for Japanese names to make the U.S. top 1,000 names charts, but that's exactly what happened with Kazuko in 1927. It only reached number 954, but that still counts as charting.
67. Kei
Kei can mean intelligent, congratulate, or gemstone.
In addition to being a popular gender-neutral Japanese name, Kei is also an ancient Frisian boys' nickname, meaning victory, brave spear. An alternative reading for some kanji that read Kei is Megumi, also a Japanese girls' name.
68. Keiko
Keiko means blessed child.
The name Keiko was given to the male orca who played the title role in Free Willy. After the movie's release, funds were raised, and Keiko was rehabilitated before being returned to the wild.
69. Koyuki
Koyuki means little, less snow.
Koyuki Higashi and Hiroko Masuhara married at Tokyo Disneyland's Cinderella Castle in 2012. They became the first "officially" married same-sex couple in Japan.
70. Mai
Mai can mean dance or linen robe.
Mai is also the name for the month of May in Norway and Estonia, as well as a Sino-Vietnamese girls' name that means plum, or apricot. It's also a Danish, Norwegian, and Estonian short form of Maria.
71. Masako
The Japanese girls' name Masako combines elegant, graceful with child.
Sometimes described as the most important woman in Japanese military history, Masako Hojo was famous for riding into battle alongside her husband. The only time she missed a military campaign was when she was giving birth.
72. Mayumi
Some meanings for Mayumi are spindle tree, elegant bow, and truth, reason, beauty.
Brazillian esports player Mayumi may only be 18, but she has already become an icon in League of Legends, as well as an inspiration to other female gamers.
73. Megumi
The Japanese girls' name Megumi means favor, benefit, love, or affection.
Upon discovering she didn't know much about vaginas, artist Megumi Rokudenashiko set out to investigate the nature and appearance of hers through sculpture. As a result of her work, she has been arrested for obscenity twice.
74. Mei
Mei means budding life.
As well as being a Japanese girls' name, Mei is also a Chinese girls' name. When written with the Chinese character 美, it means beautiful, while 梅 is also Mei but means Chinese plum.
75. Michi
While other kanji can be used to make this name, Michi usually means path.
Michi is a high-end women's brand specializing in activewear and loungewear—founded by Brooklyn-based designer Michelle Watson. The styles are made to be worn both in and out of the studio or gym.
76. Midori
Midori is Japanese for green.
Midori is an extremely sweet, 20-21% alcohol liqueur from Japan. Named Midori because of its bright green color, it is made from musk melon.
77. Mika
Mika combines the kanji for beautiful with the one for either fragrance or increase.
Photographer Mika Ninagawa is famous for her vibrant images, often featuring flowers or fish. Ninagawa has also achieved success as a director of movies, music videos, and most recently, a Netflix series.
78. Moe
The name Moe means bud, sprout.
Moe is an English language abbreviation for the boys' names Maurice and Morris or the girls' names Maureen or Moriah. It is also a Burmese gender-neutral name that means sky, rain.
79. Moriko
The most popular kanji combination for Moriko means forest child.
As well as creating sculptures, digital art, and photographs, artist Moriko Mori founded the Faou Foundation. The foundation promotes the relationship between art and nature by creating and placing art installations in natural environments around the world.
80. Murasaki
Murasaki means cluster, bloom, in reference to the plant purple gromwell.
Born around 978 AD, Murasaki Shikibu helped shape the Japanese language through her writing, which took verbal Japanese and transferred it to a written form. Shikibu wrote The Tale of Genji, considered to be a classic of Japanese literature.
81. Renho
Renho can mean pure heart and friend.
Renho Murata is the first female leader of the Japanese Democratic Party. She's the first female leader of a big political party in Japan, and she is also the first mixed-heritage leader.
82. Rio
Rio is created by combining kanji meaning white jasmine or village, with thread or center.
Rio is also the Spanish word for river and has been a popular boys' name in the United Kingdom since the late 1990s. However, in that case, it is used as a boys' name inspired by footballer Rio Ferdinand.
83. Sachie
Japanese girls' name Sachie means happiness, good luck.
Canadian vlogger Sachie is famous for her YouTube channels, which feature manga reviews, anime commentary, cos-play, and her daily life.
84. Sachiko
Sachiko means child of bliss or child of happiness.
Sachiko is the name of a character in Eimile Autumn's suspense novel and psychological thriller The Asylum For Wayward Victorian Girls.
85. Sadako
Sadako means true, certain, sure, definite, and child.
From 1991 to 2000, human rights champion and diplomat Sadako Ogata was the United Nations High Commissioner for Refugees. Among her many accolades in 2005, she received the prestigious World Citizenship Award with alumni such as Wangari Maathai and Nelson Mandela.
86. Sakiko
Sakiko is made from kanji representing blossom and child.
We think Sakiko is a fabulous name for a child born in spring or when the trees in your area are resplendent with blossom.
87. Sakura
Sakura means cherry blossom.
Every spring, Japan is resplendent in beautiful pink and white cherry blossoms. People enjoy hanami or flower watching, and many locations host yozakura, which translates as night sakura and is the viewing of cherry blossoms after dark.
88. Shinju
Shinju means pearl.
Shinju is a pretty name, but it is similar to Shinjū, so you may want to give it a pass. Shinjū refers to double suicide, or more commonly in modern use, any suicide of two or more people bound together by love, social, or family bonds.
89. Shun
Shun can mean fast or talented, depending on which kanji is used.
In addition to being a Japanese gender-neutral name, Shun is also a gender-neutral Chinese name, although in that case, Shun means to obey, submit.
90. Suzume
Suzume means sparrow.
While we adore this girls' name from Japan, we fear it would be ruined by people calling a little one named Suzume either Susan or Suzie instead.
91. Takako
The name Takako has multiple possible meanings, depending on the kanji used.
There are at least a dozen ways to combine kanji to create the name, Takako. Possibilities include 貴子, which is noble child, 多佳子, which is many good child, 孝子, which is piety or serve parents, 嵩子, which is swell child, and 昂子, which is wise child.
92. Takara
Takara means treasure, jewel.
Japanese toy company Takara Co. Ltd. produced toy lines called Microman-Micro Change and Diaclone, which were later rebranded as Transformers, giving birth to the hugely successful international franchise.
93. Tamiko
Tamiko is often written in such a way that it means child of many beauties.
Hitting the U.S. 1,000 most popular girls' names charts in 1968, 309 girls were named Tamiko. Skipping a year, Tamiko returned in 1970, peaking in 1975 when it was given to 486 babies and disappeared after it was used 158 times in 1978.
94. Tomoe
Tomoe is created by combining wisdom, intellect, or friend with favor, benefit.
Fearsome female samurai Tomoe Gozen was famous for her skills with both a bow and a sword. Infamous for decapitating those she conquered, Goen lived to the ripe old age of 91.
95. Tomoko
Tomoko can mean cleaver, friendly, knowing, or wise child.
Tomoko Uemura in Her Bath is a photograph by W. Eugine Smith. Published by Time magazine in 1972, the image was part of a project Smith undertook to bring the world's attention to Minamata disease, which is caused by mercury pollution.
96. Toshiko
Toshiko means quick, clever, sharp child.
Toshiko Kishida was a 19th-century feminist who was arrested many times for speaking of women's rights. She said, "If it's true that men are better than women because they are stronger, why aren't our sumo wrestlers in the government?"
97. Ume
Ume means Japanese apricot.
Ume refers specifically to the apricot species Prunus mume, which is known in Japan as sumomo. The ume blossom is regarded as a symbol of spring, and in Japanese tradition, it was thought to ward off evil.
98. Yasu
The Japanese name Yasu means peaceful or smooth.
In addition to being a gender-neutral Japanese name, Yasu is also a form of Jesus traditionally used by Arabic-speaking Christians.
99. Yayoi
Yayoi combines the kanji for increase and birth, life, genuine.
The world's top-selling female artist is Yayoi Kusama. The primarily conceptual artist has lived and worked from a psychiatric ward, which she signed herself into, for the last 40 years.
100. Yui
Yui means excellence, superiority, gentleness, and clothing or garment.
In the top ten Japanese girls' names of 2020, by reading, Yui was number six, down from number three the previous year.
Saigo No Kotoba (The Last Word)
We hope you have enjoyed our list of Japanese names as much as we enjoyed tracking them down. Unfortunately, we only had enough room here for 100 Japanese girls' names, so we had to cull over 100 more from our list.
There are so many beautiful girls' names from this culture, you should have no problem finding one for your precious daughter.